Connectivity and aircraft e-enablement are buzzwords that airlines the world over cannot afford to ignore. From passenger Wi-Fi and connected crew, to wider operational efficiency, airlines' businesses are being reshaped by the changing landscape brought about by connectivity developments. So, at Aircraft Interiors Expo, FTE paid a visit to a selection of the biggest players in the connectivity space, many of which will be taking part in the 'Cabin Connectivity Unleashed' session at Future Travel Experience Global 2015, which will take place in Las Vegas from 9th-11th September, to find out more about what impact their latest solutions will have on this dynamic sector of the industry.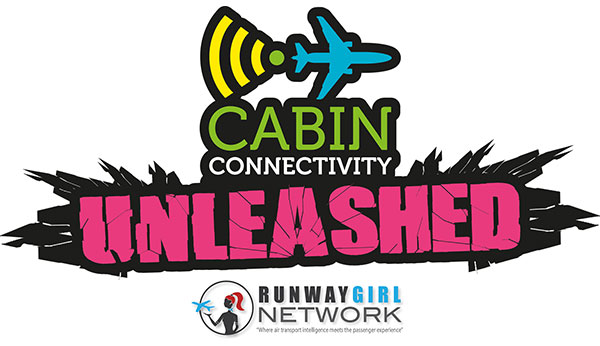 Led by Mary Kirby, Founder and Editor of Runway Girl Network, the 'Cabin Connectivity Unleashed' session at Future Travel Experience Global 2015 will be a no-holds-barred, spin-free discussion in which Kirby will grill industry experts, including senior figures from the likes of Panasonic Avionics, Gogo, Thales, ViaSat and Global Eagle Entertainment, on how nose-to-tail connectivity will change airlines and aviation forever, and how it will reinvent the passenger experience onboard.
Here, though, we highlight some of the key findings from our few days at Aircraft Interiors Expo in Hamburg.
Gogo focused on broad connectivity ecosystem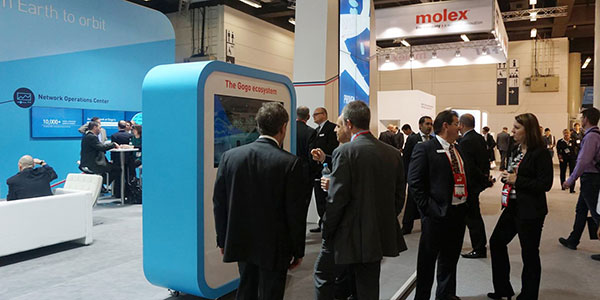 The "Gogo ecosystem" was very much at the heart of the company's messaging at Aircraft Interiors Expo, and understandably so given the continued expansion of the company's vast portfolio of connectivity-related solutions. During the show, Gogo launched its new crew messaging service – Crew Connect for Airline Operational Services – a dynamic application-based messaging platform that allows flight crews to communicate by voice or text messaging with each other and with ground crew while the aircraft is in flight. Interestingly, the solution is available to all connected airlines, regardless of which supplier they work with, although the company says it is "optimised for Gogo's network".
Having spoken with several members of the Gogo team in Hamburg, the company's desire to unlock the full potential of the connected aircraft is evident. We were told that in-flight services, maintenance, flight operations and aircraft systems are the four key components of the "connected airline" that will enable carriers to fully realise connectivity-related capabilities, as is highlighted in the 'Building the Case for the Connected Aircraft' white paper.
Of course, Gogo is still pushing its core offerings and the Gogo Vision wireless IFE solution is now available on around 1,900 aircraft, and Virgin Atlantic, Aeromexico and Delta Air Lines have already signed up to the 2Ku connectivity service. We were also told that Japan Airlines and Air Canada will be trialling the service, which will mark a step-change in passenger connectivity by offering peak speeds up to 70 Mbps upon its launch.
Complete cabin connectivity on Rockwell Collins' agenda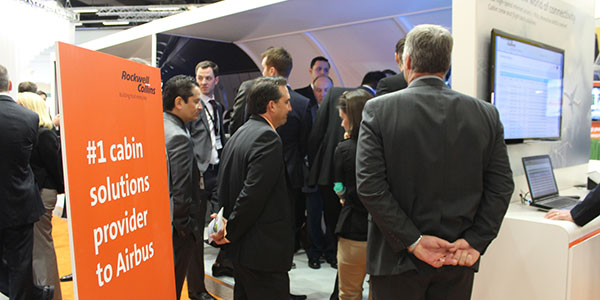 The value of Rockwell Collins' end-to-end capabilities was aptly highlighted by Richard Nordstrom, Senior Director Global Marketing, Air Transport Cabin Solutions, who explained to FTE: "There is now a tsunami of data flowing into airlines and they need to work out what to do with it. With our end-to-end focus, we can help them do this."
Among the myriad solutions on show was the PAVES Wireless, On-demand and Broadcast IFE solutions, in addition to the Cabin Connect suite of connectivity services, which features Inmarsat's GX Aviation service, for which Rockwell Collins, Platinum Sponsor of the 'Up in the Air' conference at Future Travel Experience Global 2015, is a Value Added Reseller.
"We're getting ready for the GX launch – that's coming soon," Nordstrom stated. "We're really bringing up the technology level and we see the speed with which these connectivity services are coming. There's a lot of inventiveness here, and we're in a position to really shout about what we're doing."
Thales aiming to help airlines optimise 'InFlyt' experience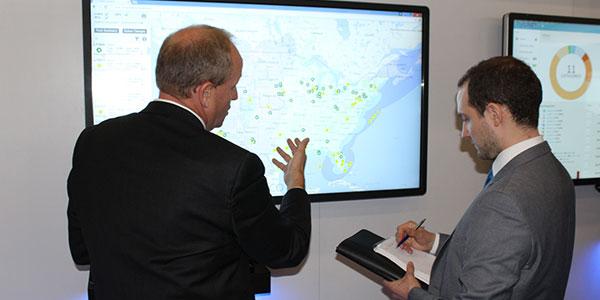 Thales last week reshaped its IFEC activities into "Thales InFlyt Experience", which the company says better reflects its capabilities to offer a "fully immersive, customisable and transformational entertainment, connectivity and service experience to passengers, and truly bring a return on airline investment". FTE was lucky enough to have a guided tour of the multiple elements of the connectivity-driven services by Mike Moeller, VP Sales & Marketing.
In short, Thales InFlyt Experience consists of three core elements – AVANT, the Android-based IFE system, FlytLive and FlytCare. As we were shown, FlytLive consists of broadband connectivity, connected services, and live content management services, and FlytCare is a maintenance and repair service leveraged by Thales's global support and service network.
To paraphrase Moeller and his colleagues, Thales' reshaping of its IFEC activities is designed to help airlines optimise everything from ancillary revenue generation and flight monitoring, to data analytics and reporting, to help them manage and utilise information and live content.
Inmarsat: The 'tipping point' is here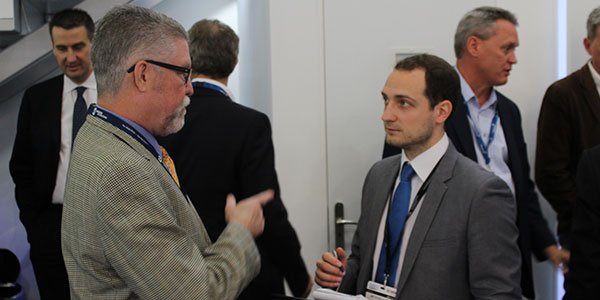 "We've reached a tipping point and anyone who hasn't yet committed to a broadband service, at least on long haul, knows they have to," Bill Peltola, Inmarsat's Vice President Aviation, Asia-Pacific, told FTE. You wouldn't expect him to say any different, but it seems entirely accurate as airlines are increasingly being judged on their connectivity capabilities.
Peltola is adamant that the Global Xpress constellation will transform the connectivity market. Vietnam Airlines has already signed up, Air China has committed to a single aircraft trial, and Peltola told FTE that a total of "four to five airlines have essentially signed up" already for the service, which is scheduled to provide global broadband coverage by the end of the year. FTE also paid a visit to the Honeywell Aerospace stand, where the company was showcasing the JetWave hardware for GX Aviation, which successfully completed its latest tests last month ahead of flight testing in the coming weeks.
Of course, the Ku/Ka debate rages on, and there's no prizes for guessing which side of the fence Peltola sits. "Ku networks use satellites that were put up there for a different reason," he said. "The thing that changes the game is that we can go in and have instantaneous access and control over every area of the system. And as it's a three-satellite constellation, even on the longest flight in the world you only have to switch satellites once."
ViaSat: 'Innovate or die'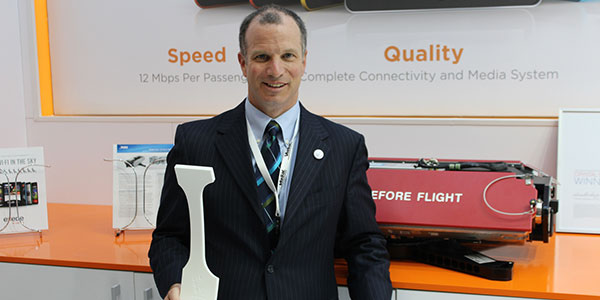 Another major player in the Ka-band market, ViaSat, also had a lot to shout about in Hamburg, having been awarded a Crystal Cabin Award in the Passenger Comfort Systems category for its Exede in the Air in-flight Wi-Fi system, which powers JetBlue's highly-regarded Fly-Fi service. Exede in the Air is also available on select United Airlines aircraft and will soon be in Europe with Israeli carrier EL AL, and Don Buchman, Vice President Exede Mobility, told us there is plenty more to come, not least with the scheduled launch of ViaSat-2 next year – the fourth satellite in the company's fleet. "As an innovative company, you innovate or die," Buchman said. "And innovating is exactly what we're doing with ViaSat-2."
Referring to the success of the team-up with JetBlue, Buchman added: "What's happened with JetBlue wasn't a coincidence. When we entered the market, people said we were nuts, because onboard connectivity was getting 3-7% take-up. But this is because there were two problems: there was a poor quality of service and prices were too high. We've looked to solve these problems because we think quality matters and we think customer experience matters."
Buchman also made a point of highlighting what he thinks is at the core of a successful onboard connectivity product: "If you ask JetBlue why it's been so successful, they'll say it's all about the satellite."
GEE and QEST unveil three-axis steering antenna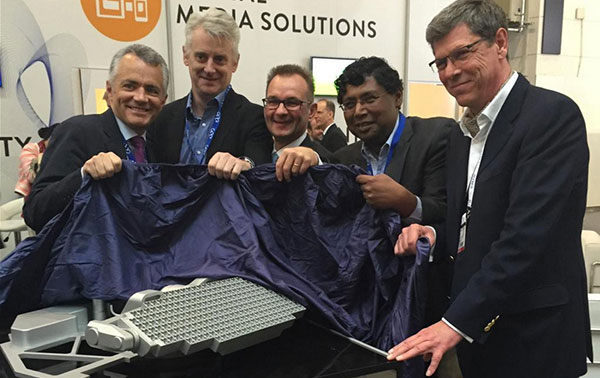 Global Eagle Entertainment (GEE) would presumably disagree with that last comment, however, as the company proudly unveiled a new global Ku antenna in Hamburg. The antenna has been jointly developed by GEE and QEST Quantenelektronische Systeme GmbH. Aditya Chatterjee, Senior Vice President of Connectivity Systems and Chief Technology Officer at GEE, labelled the three-axis steering antenna "truly revolutionary".
He said: "Regulatory requirements limit the performance of today's conventional two-axis antenna systems in equatorial areas, whereas flat panel antennas cannot offer sufficient performance at all latitudes," adding that the GEE/QEST solution will "pave the way for truly global high-speed connectivity to our airline customers."
More from FTE at AIX:
» IFE vendors deliver cross-cabin innovations – embedded, wireless and a combination of both
» Latest onboard retail solutions highlight end-to-end possibilities 
» Passenger comfort high on the agenda, but could passengers be set for a big squeeze?