Ranging from digital merchandising platforms to Near Field Communication (NFC)-enabled payment services, a selection of onboard retail solutions on show at Aircraft Interiors Expo in Hamburg highlighted vendors' welcome focus on helping to improve the travel experience before, during and after the flight. Here we round up some of the highlights.
'Perfect partnership' creates broad airline and passenger benefits
Meeting modern day passenger needs and focusing on the end-to-end travel experience were the key focuses on the LSG Sky Chefs booth, where the world's largest provider of in-flight services was showcasing its latest solutions alongside a selection of its partners.
Among these partners was Retail inMotion (RIM), and Head of Business Development and Strategy Andrea Fiore showed FTE how the company provides a truly end-to-end onboard portfolio, which ranges from new F&B products to a forward-thinking mobile and tablet-based pre- and in-flight sales retail platform powered by a dedicated onboard server. "Because we're part of LSG we have a holistic view," Fiore explained.
Josefine Corsten, LSG Sky Chefs' Senior Vice President Corporate Communications & Marketing, explained how RIM's technological and in-flight sales capabilities, coupled with LSG Sky Chefs' airline catering and in-flight management expertise and access to 300-plus airline clients, makes for a "perfect partnership".
As Andreas Kowalski, Vice President Decentral Regional Entities & Adjacent Markets, LSG Sky Chefs explained to FTE, the "hybrid concept" adopted by German low-cost carrier Germanwings provides evidence of the benefits of this team-up. All passengers receive a Buy-on-Board menu, in addition to a "Your Choice" menu, which was introduced to offer more variety and flexibility to the carrier and its frequent flyers, premium fare customers and economy passengers alike by allowing them to select F&B items à la carte from either of the two menus cards. The rollout coincided with the launch of Basic, Smart and Best fares, with the diverse F&B offer creating a key differentiator. To support this, Kowalski explained, LSG Sky Chefs worked closely with RIM, whose software enables flight attendants to carry out all onboard processes using a hand-held, touch screen device. In short, the hybrid concept is a great example of a successful collaboration.
Also worth a mention is an augmented reality-solution on display on the LSG Sky Chefs booth, which allows customers to access discounts and nutritional information, among other features, simply by pointing the camera on their mobile device at a product – a nice novelty that could help to bring a smile to passengers' faces while up in the air.
IFPL: NFC is here to stay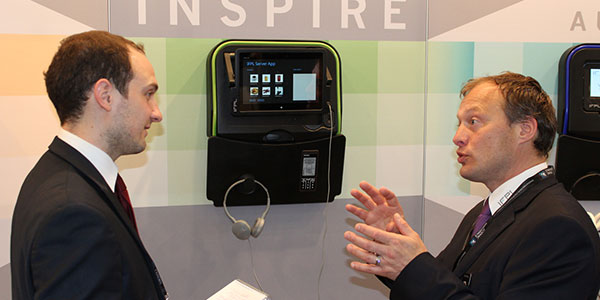 Near Field Communication (NFC) technology continues to gain traction among airlines, and on the IFPL stand the company's Head of Business Development, David Thomas, told FTE all about the Contactless Retail System (CRS). "Everyone is starting to move towards NFC and 'touch and go' payment makes sense onboard the aircraft," he said, explaining that the solution offers a secure transaction option, meets all Payment Card Industry (PCI) compliancy and can be easily integrated with existing onboard payment servers. "The CRS means a passenger can pay for their onboard purchase via 'touch and go' and the order automatically shows up on the crew tablet, so it's all very seamless," Thomas added.
A couple of other solutions on the IFPL stand also caught FTE's attention, including the a reversible USB port, and dual-pin and triple-pin MagJack headset jacks that remove the risk of headset damage. The centerpiece, though, was the "Vision" concept, which brought together a number of the company's solutions alongside a mock-up of a semi-embedded IFE system. "We'd be happy to work with the OEMs to conceptualise this," Thomas said. "It's all about working together with OEMs and airlines to innovate."
Destination activity planning at 30,000 feet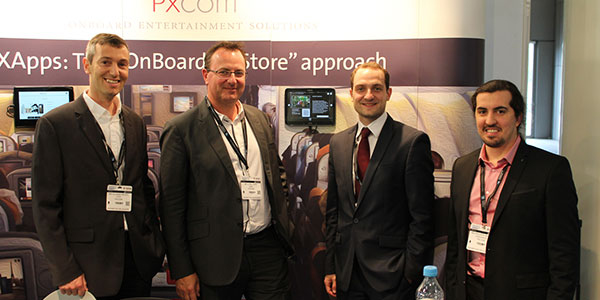 PXCom offers a variety of IFE-related solutions, including moving maps and multi media travel guides, but it was the destination ticket booking feature that really caught our eye. The PXCom solution takes into account the wider travel experience beyond the boundaries of the aircraft cabin by allowing travellers to search for events and activities at their destination and then order tickets, all while they are onboard the aircraft. In fact, the company has just announced that the solution has been fully integrated within Lufthansa Systems' BoardConnect wireless IFE portal.
As Cyril Jean, CEO of PXCom, told us: "The aircraft doesn't even have to have Wi-Fi, because the passenger can book their tickets and enter their contact details, and then when they land the data is offloaded and processed, they are sent a confirmation and can make the payment."
As big advocates of focusing on the end-to-end experience, here at FTE we're big fans of the PXCom solution.
More from FTE at AIX:
» IFE vendors deliver cross-cabin innovations – embedded, wireless and a combination of both
» Aircraft e-enablement, the connectivity ecosystem and Ka versus Ku
» Passenger comfort high on the agenda, but could passengers be set for a big squeeze?