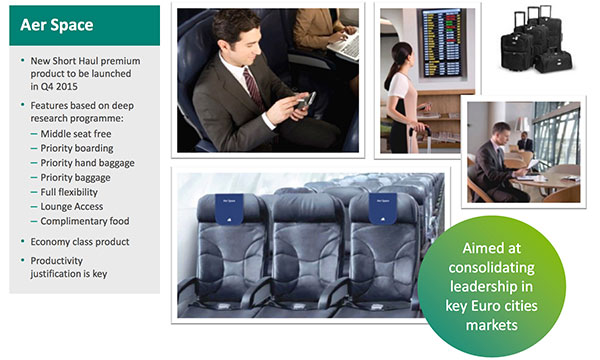 Aer Lingus will introduce a new short-haul premium product later this year in a move that the carrier says is "aimed at consolidating leadership in key Euro cities markets".
The product, called "Aer Space", is detailed in the carrier's H1 Results 2015 presentation, which lists the main features as an empty middle seat, priority boarding, priority hand baggage, priority baggage, full flexibility, lounge access and complimentary food. The three rows at the front of the economy class cabin will be sold as Aer Space seating.
Aer Lingus' announcement of a new short-haul premium product comes almost a year after fellow Irish airline Ryanair launched a Business Plus product as part of its own "Always Getting Better" programme.
Aer Lingus is, in fact, undertaking its own service delivery improvement programme called "Keeping one step ahead". The carrier recently introduced its all-new A330 Business Class, is investing heavily in enhancing its web and mobile platforms, and has developed new "Guest Service Standards" to help raise the bar on service standards and bring consistency to the passenger experience.