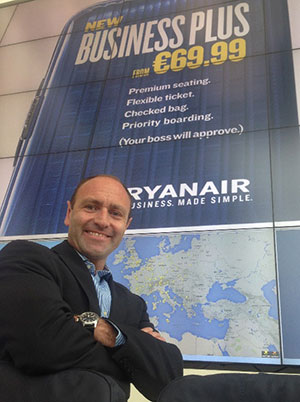 Ryanair has launched a new product designed specifically for business travellers, which includes more flexibility on ticket changes, a 20kg checked bag allowance, priority boarding and fast track security at selected airports.
Ryanair Business Plus, as the product is officially known, also includes a 'premium seat', which is in fact a seat located near the front or rear door of the aircraft to facilitate speedy disembarkment, or an exit row seat with more legroom.
Ryanair's Chief Marketing Officer, Kenny Jacobs, explained that the new product has been introduced in response to the fact that "business are becoming smarter with their travel" and also because "over 25% of our customers already travel on business".
The introduction of Ryanair Business Plus is part of a wider passenger-focused programme called 'Always Getting Better'.
So far, the low-cost carrier has introduced allocated seating, changed its policies to allow passengers to take a second carry-on bag onboard free of charge, developed and launched a brand new app with mobile boarding passes, and added a dedicated family service labelled Ryanair Family Extra.