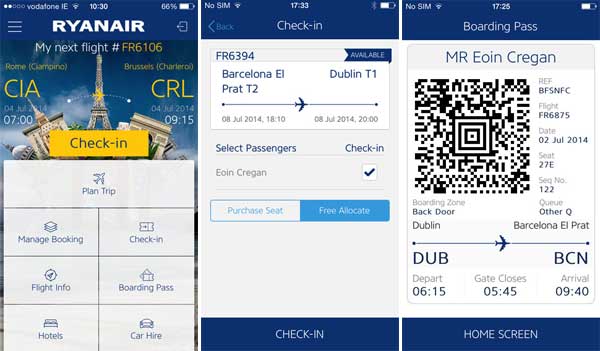 Ryanair has launched its long-awaited new app for iPhone and Android devices, enabling customers to book flights, hotels and car hire, view live flight information, check-in and download their mobile boarding passes. The launch comes nine months after FTE reported that the low-cost carrier was developing mobile boarding passes.
The new app is currently available in English, Spanish and Italian, but further language versions will be added in the coming months.
Kenny Jacobs, Chief Marketing Officer, Ryanair, said: "We've worked hard to develop a product which we're proud of and which will make travelling with Ryanair even better, and our customers can expect regular app updates that will make it an even more useful travel tool.
"Our 'Always Getting Better' programme has delivered better services, more choice and enhanced in-flight and digital experiences for our customers, and we look forward to making further improvements for the 84 million people who will fly with us this year."
The launch of the new app follows Ryanair's announcement that it will set-up a new state-of-the-art digital and IT innovation hub called Ryanair Labs. The airline, whose CEO told FTE last summer that he would not offer mobile check-in "because it won't save money", plans to recruit 200 staff as part of its drive to "change the world of online travel", "reimagine the online travel sector" and "build amazing experiences".
Ryanair is an official partner of FTE Europe 2015, which will take place in London from 2-4 February 2015.