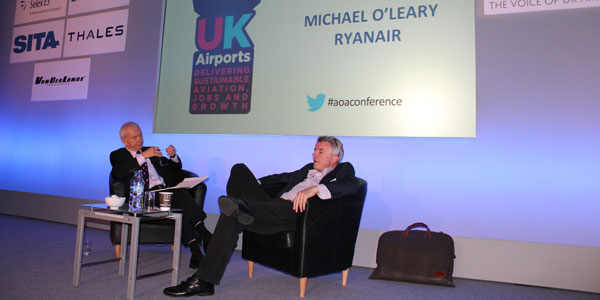 Talking at the Airport Operators Association (AOA) Annual Conference in London this week about the new "nicer" Ryanair, CEO Michael O'Leary outlined changes to the airline's much-berated airport check-in policies and charges.
He explained that Ryanair's perceived more customer-friendly approach has a lot more to do with message delivery than a change to service policy: "There are many things you can do already that we are not credited for, such as reserve a seat or buy priority boarding – we have just not communicated or marketed efficiently – we need to promote a great service message."
However, he did announce that there would be one important new material change in the future, relating to the much-hated €70 manual check-in fee that is charged to passengers who fail to check-in online.
"The boarding card fee will be split up," he said. "For instance, if you have checked in, but merely lose your printout, we'll introduce a new lower charge for reprinting your pass – we don't want to penalise such people."
However, showing that the old O'Leary still glows underneath the new, softer version, the low-cost boss then clarified his comments: "Of course you'll still be hit with the whole fee if you can't be arsed to check-in online at all."
The announcement of the changes to the boarding pass charges come in the same week that O'Leary announced via a live Twitter Q&A that Ryanair will introduce mobile boarding passes in summer 2014.