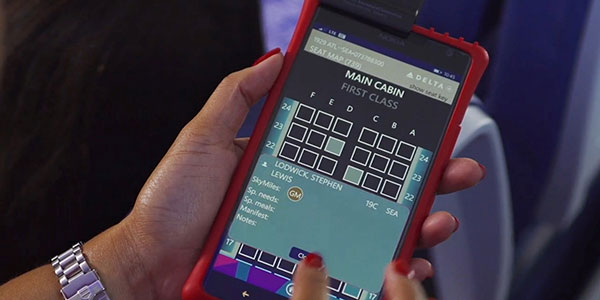 Personalising the passenger experience is a goal shared by airlines around the world, and Delta Air Lines has now taken a step towards achieving this by equipping its flight attendants with the new Guest Service Tool.
Last year, Delta rolled out Nokia Lumia 1520 tablets, which were initially used to process in-flight ancillary sales and replaced the 500-page On Board Manual with a digital version. The launch of the Guest Service Tool will now enable the carrier's 22,000 flight attendants to interact with passengers on a more personal level. For example, they will be able to use the tool to recognise high-value customers and better serve those who may be in need of extra assistance. As the tool evolves, they will also be able to provide passengers with the status of their connecting flight and gate information in real time.
Allison Ausband, Delta's Senior Vice President of In-Flight Service, explained that the tool will allow flight attendants to "pay attention to detail for the customer". She added: "The Guest Service Tool is a great opportunity for us to bring humanity back to flying and we know our customers want that too, and all 80,000 Delta employees want that customer to feel it on board the airplane.
"(It) is going to allow us to make sure that the customer knows they matter, we value their business and if we disrupted a customer yesterday due to weather, our flight attendants will know that on their next flight, and be able to offer that service recovery immediately in the aisles and provide that great service."
Ausband also explained that the technology will enable staff to greet customers by name and view their frequent flyer status to get a more detailed understanding of the customer they are dealing with. "We'll continue to enhance the device and Guest Service Tool to take advantage of customer-provided data to further personalise the on board experience," she added.
Finding a balance between personalisation and intrusion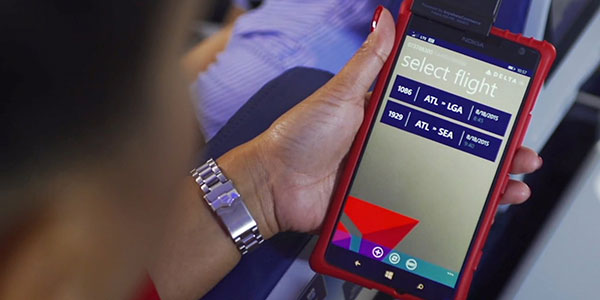 Delta Air Lines' attempts to personalise the in-flight experience follow similar initiatives by other carriers in recent times. Among them is JetBlue Airways, which has rolled out iPad Minis and the In-Flight Service Assistance application.
The thinking behind JetBlue's app is to give flight attendants easy access to an electronic manifest that shows them which passengers have made special requests and which are TrueBlue or Mosaic members. The iPad Minis can also be used as point-of-sale devices.
British Airways also has experience in this space. It was among the first to exploit Big Data opportunities to personalise the travel experience for premium customers with its "Know Me" programme, which launched in 2012. While many saw the benefits of such an initiative at the time, questions were also raised about where the line should be drawn between personalisation and intrusion.
As airlines seek to establish just how far travellers would like personalisation to go, they will no doubt be paying close attention to what impact these initiatives have on the passenger experience and operational efficiency, plus, most importantly, just how comfortable passengers are when it becomes apparent that flight attendants know more about them than they might expect.