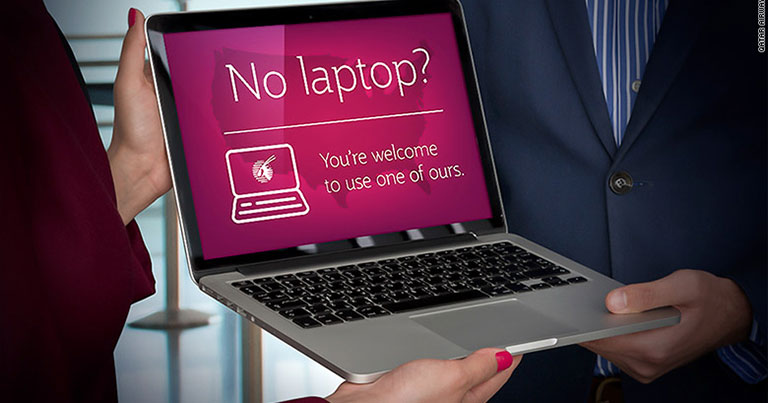 Following the announcements by the US and UK governments of a ban on electronic devices larger than a smartphone from being brought into the cabin, airlines have been forced to take swift action to minimise disruption, while industry associations have voiced serious concerns about the impact of the ban. While nobody disputes the fact that safety and security must be the number one priority, many have criticised the nature of the ban and an apparent lack of coordination.
The US ban, announced on 20 March, affects a number of airlines, namely Royal Jordanian, EgyptAir, Turkish Airlines, Saudi Arabian Airlines, Kuwait Airways, Royal Air Maroc, Qatar Airways, Emirates and Etihad Airways. The UK ban, meanwhile, is based on a separate list of airports, and affects British Airways, easyJet, Jet2.com, Monarch, Thomas Cook, Thomson, Turkish Airlines, Pegasus Airways, Atlas-Global Airlines, Middle East Airlines, EgyptAir, Royal Jordanian, Tunis Air and Saudi Arabian Airlines.
Having been given just 96 hours to implement the ban, which they had not been consulted on, airlines have had to act quickly, while many passengers have been left confused about how it will affect their travel plans.
Alexandre de Juniac, IATA's Director General and CEO, has made his thoughts clear: "The current measures are not an acceptable long-term solution to whatever threat they are trying to mitigate. Even in the short term it is difficult to understand their effectiveness. And the commercial distortions they create are severe. We call on governments to work with the industry to find a way to keep flying secure without separating passengers from their personal electronics.
"With the measures now in place, our passengers and member airlines are asking valid questions. Why don't the US and the UK have a common list of airports? How can laptops be secure in the cabin on some flights and not others, including flights departing from the same airport? And surely there must be a way to screen electronic equipment effectively? The current situation is not acceptable and will not maintain the all-important confidence of the industry or of travellers. We must find a better way. And Governments must act quickly."
Emirates, Qatar Airways and Etihad react to electronics ban
Airlines affected by the ban have reacted quickly to try to minimise disruption. Many are allowing passengers to keep hold of their laptops right up until the boarding gate, where they must be handed over to a gate agent in order to be loaded into the aircraft hold. The devices are then returned to passengers upon arrival at the destination.
Emirates President Sir Tim Clark explained that the airline's overriding priority is to comply with the ban without harming the passenger experience. "Our aim is to ensure compliance with the new rules, while minimising disruption to passenger flow and impact on customer experience. Our new complimentary service enables passengers, particularly those flying for business, to have the flexibility to use their devices until the last possible moment."

He continued: "Once on board, they can still stay connected on their mobile phones. Our historical data shows that on Emirates' US flights, 90% of passengers using our onboard mobile and Wi-Fi connectivity services do so via their smart phones. Only 6% connect via their laptops, and 4% via their tablets. That is not to say that other passengers are not using their devices offline, but perhaps the silver lining to this is that they can now justifiably give themselves a break from their devices, enjoy our onboard service and catch up on the latest movies, music, and TV box sets that we have on offer."
Emirates' biggest competitors in the Middle East, Etihad Airways and Qatar Airways, have opted for a different approach. From 2 April, Etihad's US-bound passengers flying in first and business class will be loaned iPads and given free Wi-Fi access. This will apply on services departing from Abu Dhabi International Airport.
Meanwhile, Qatar Airways will introduce a new laptop loan service for business class passengers flying from Doha to the US. Passengers will be able to collect a laptop after boarding, and then hand it back to a member of crew at the end of the flight.
IATA and APEX call for passenger-centric long-term solution
While the airlines should be commended for their efforts to limit the impact of the ban on the customer experience, there is a strong feeling that everybody has a responsibility to create a more passenger-friendly long-term solution.
"The industry came together quickly to implement the new requirements. That was a challenge because there was no prior consultation and little coordination by governments," IATA's de Juniac stated. "While governments have the primary responsibility for security, we share the priority of keeping passengers, crew and aircraft secure. To do that effectively intelligence is king. And it needs to be shared amongst governments and with the industry. It's the only way to stop terrorists before they get near an airport, let alone aircraft."
He added: "Airlines don't want access to state secrets. But if airlines understand the outcome governments want, they can help with the operational experience to deliver that result effectively and efficiently."
Joe Leader, CEO of the Airline Passenger Experience Association (APEX), has also called for swift action. "When we take away personal electronic devices from passengers, we are bowing to a potential threat rather than providing an acceptable security solution," he said. "Chemical detection machines utilised worldwide can detect illicit items in electronics. Turning on electronics checks functionality and non-functioning electronics could be banned from flights. The expense of hand-searching every carry-on for the personal electronics ban could instead be directed to a long-term solution that serves airline passengers and safety."
Leader continued: "Every threat placed against global air carriers has been met with viable solutions. We now globally screen every checked bag, carefully scan all carry-ons, restrict liquids, conduct body scans, and regularly conduct chemical analysis checks on items. When passengers connect internationally, they are frequently scanned again. Placing items into the cargo hold does not fully address the issue with a passenger-centric solution."
The APEX CEO also expressed concern that the current ban may spread "if individuals with valid travel privileges to the US or UK reposition and intelligence indicates a wider spread". He added: "We need government solutions that align globally to protect our airlines, passengers, and the ability to travel with an enjoyable passenger experience, including personal electronics that have undergone government-approved screening."
Future Travel Experience joins this call for governments to work closely with the air transport industry to create a solution that not only delivers the utmost security, but also makes every effort to minimise the negative impact on the passenger experience. Airlines have done well to implement the sudden ban in such a short timeframe, but a long-term solution is required. The sooner that is achieved, the better.