Future Travel Experience was onsite in Hamburg at Aircraft Interiors Expo 2017, where we were hunting for new products and concepts that have the potential to drastically enhance the in-flight passenger experience. While we expected innovation in some areas – including IFEC and virtual reality – developments in other spaces were more of a welcome surprise. Here are eight of our favourite innovations from around the exhibition.
Panasonic takes personalisation to the NEXT level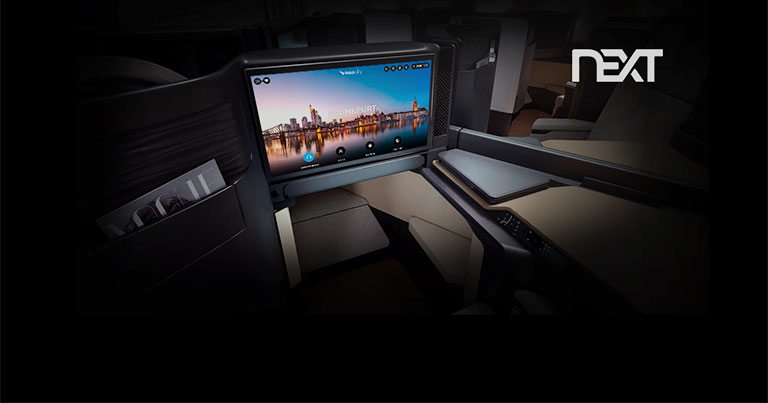 Panasonic Avionics Corporation launched its NEXT in-flight entertainment and communications solution, which is designed to provide airlines with a scalable and flexible IFEC platform. As Jon Norris, Senior Director, Corporate Sales & Marketing, explained to FTE during a tour of the booth, NEXT will help airlines maximise their investments by significantly extending the lifespan of their IFEC systems. A far cry from a traditional IFEC system with a limited lifecycle, NEXT essentially provides airlines with an IFEC backbone, which myriad services can be added to or subtracted from.
Norris explained that the modular NEXT platform empowers airlines to "layer on different experiences" for their passengers to enjoy. For instance, the integration of companion apps can extend the engagement window beyond the aircraft cabin, while the company's ZeroTouch technology allows for content to be quickly uploaded at any time. The personalisation could go as far as allowing a passenger to request a specific movie while waiting in an airport lounge, before watching the film on board the aircraft after it has been swiftly added to the IFEC system. Adding to this, thanks to NEXT, passengers will have the ability to create playlists that will seamlessly transfer from one aircraft to another. The NEXT platform also incorporates Panasonic Integrated Marketing Services (PIMS) – the company's advanced global marketing platform – which offers passengers destination-related services and retail opportunities, providing airlines with ancillary revenue generation opportunities.
Norris told FTE that the new NEXT platform taps into the concept of the "Internet of Me" and has the potential to offer passengers a "hyper-personalised experience", which up until now has been an ambition, rather than a reality, for airlines.
The theme for Future Travel Experience Global 2017 (6-8 September, Las Vegas) is "Achieving personalisation for the passenger of tomorrow". Visit the event website to find out what we have planned for the biggest ever FTE Global event.
Making the reconfigurable cabin a reality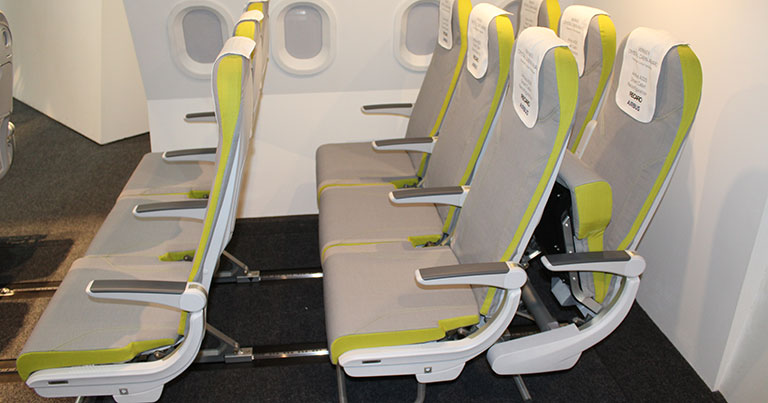 The potential of the reconfigurable cabin was a topic highlighted by the FTE Onboard 2025 Think Tank team, and now Airbus, Recaro and THK have teamed up to create a Smart Cabin Reconfiguration concept. Making use of Recaro's SL3510 Flex Seat, the concept allows for seat pitch to be quickly increased. For example, if row 30 is unoccupied, the seats can be folded up and a flight attendant can easily slide the seats in row 29 backwards to increase legroom.
Just three hand movements are enough to lift up the seat row, release the floor locking mechanism and push the seats apart along a rail system. This can be achieved in a matter of seconds.
Dr. Mark Hiller, CEO and Shareholder, Recaro Aircraft Seating, said: "With this groundbreaking solution, we provide airlines with a high degree of flexibility in cabin utilisation. At the same time, it significantly enhances passenger comfort."
Virtual reality retail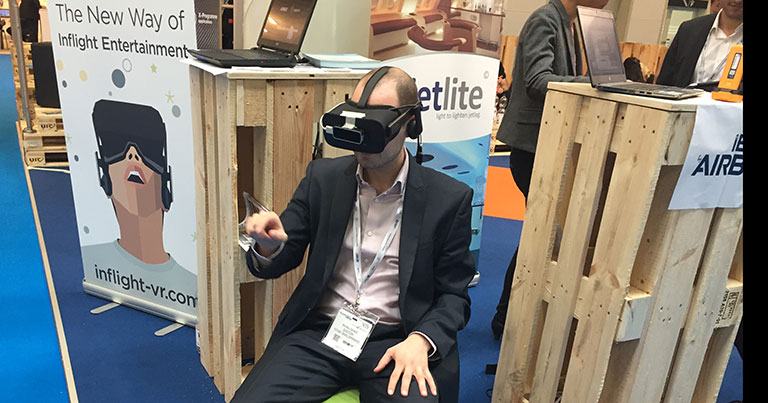 While a handful of airlines have already trialled virtual reality headsets on board, the technology is yet to hit the mainstream when it comes to in-flight entertainment. During a demonstration on the Airbus BizLab booth, FTE experienced another potential benefit of VR: in-flight ancillary sales.
Already immersed in a VR world offering everything from movies to virtual beaches, FTE explored an in-flight store, where you can select products by tapping them in mid-air (thanks to a hand tracking sensor on the headset), view 360-degree visualisations of the products, and read about the items while immersed in an interactive store-like environment. Although Inflight VR CEO Moritz Engler said the ancillary aspects are not currently a priority for the start-up, he admitted that VR provides myriad opportunities for in-flight retail. Passengers could use the headsets to explore hotel rooms and destination activities, for instance, ahead of completing purchases at 30,000 feet.
Future Travel Experience Ancillary, the world's definitive digital airline retailing show, will take place in Dublin on 26-27 June. Airlines can register for free until 21 April.
Air-filled cushions and seat sensors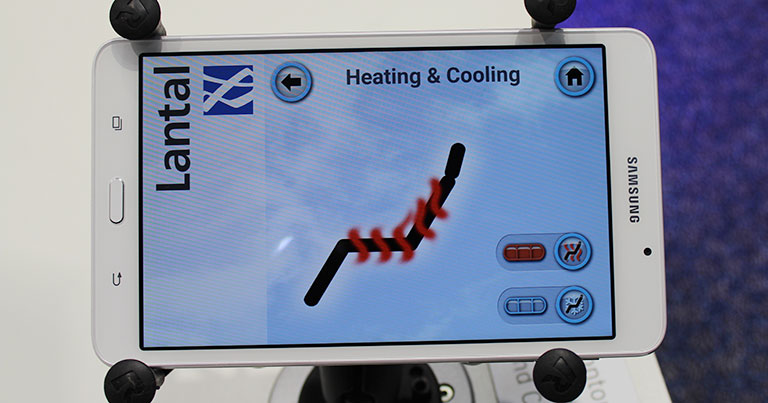 Foam seat cushions may be the norm, but Lantal has taken a different approach in an effort to improve passenger comfort. During a visit to the Lantal booth, FTE demoed the Pneumatic Comfort System, which replaces conventional seat foams with air-filled cushions. The use of air-filled cushions allows passengers to adjust the firmness of their seat with the push of a button, thanks to an integrated pump and valve block. As well as the comfort-related benefits, the inventive cushions also offer weight savings, while the impermeable polyurethane material is more hygienic as it absorbs neither liquids not odours, as Thomas Steiner, Vice President, Pneumatic Comfort Systems, explained. Steiner also provided FTE with a demo of a concept seat with integrated heating and cooling sensors, which can be controlled using a tablet device.
Addressing in-flight anxiety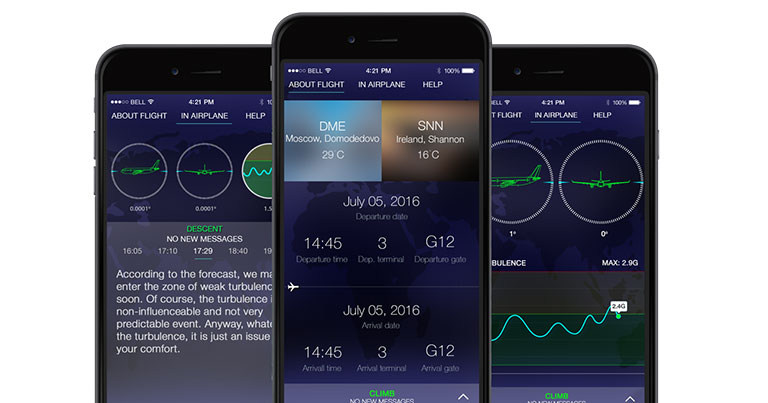 After spending almost a decade treating people with a fear of flying, Alex Gervash decided to create an app to help travellers overcome their fears. The result is SkyGuru, an app that has been specifically developed to ease passengers' anxiety by providing information, advice and predictions throughout their journey. For instance, users are provided with a real time turbulence forecast so they know when to expect turbulence, and a sounds and feelings feature that explains unfamiliar sounds and motions while flying.
Gervash, CEO of SkyGuru, explained that airlines underestimate the impact of fear of flying, especially as only around 0.1% of sufferers ever seek treatment. Having developed the app, Gervash spent 450 flights perfecting each of the functions to ensure that the 1,000-plus algorithms provide accurate predictions and advice at the right times.
If airlines were to integrate SkyGuru into their own app or IFE system, they would stand to benefit in the long run, Gervash stated. "Airlines are the biggest losers from fear of flying," he said. "Research shows that people who suffer and recover fly 3.5 times more than those who never suffered."
Automated galley trolley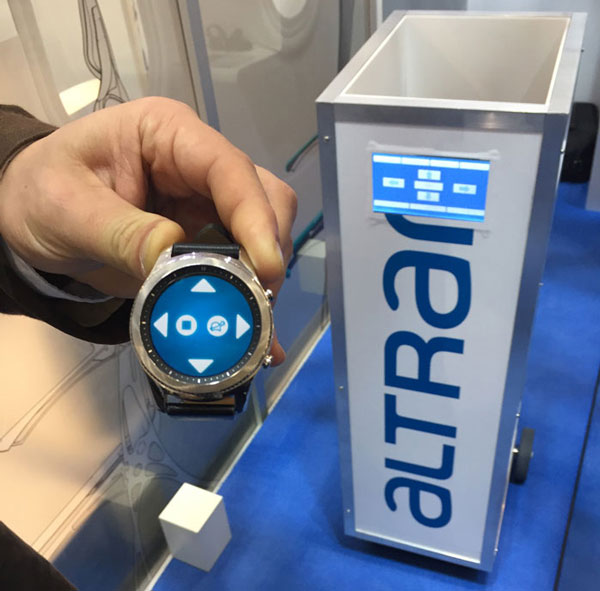 Another prediction by the FTE Onboard 2025 Think Tank was that automated trolleys could be a reality on board aircraft within a decade, but it turns out this prediction may have been slightly conservative. In Hamburg the Altran team showcased a new automated galley trolley, which can move through the cabin on its own accord.
The trolley, which features a touch-screen interface, has sensors, which can detect each seat row, allowing it to move from row to row without being pushed. These sensors can also detect any objects in the trolley's way, allowing it to come to a standstill until the obstruction has been cleared. As Altran's Andreas Maier highlighted to FTE, the prototype can also be controlled using a smartwatch app, adding another layer of convenience for flight attendants.
App-less DRM content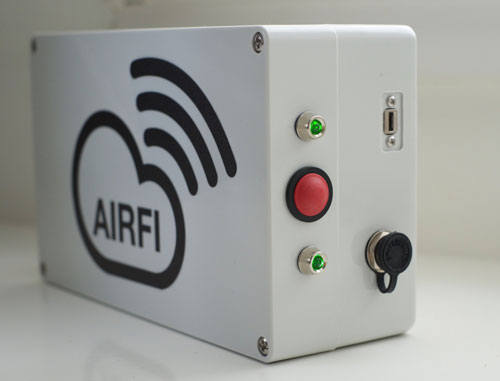 AirFi had a busy week in Hamburg, where it announced six new airline customers, but the most exciting news from the company was the disclosure that it has developed technology that allows passengers to access digital rights management (DRM) content via a browser, rather than an app.
As Job Heimerikx, AirFi's CEO, explained to FTE, this means passengers will not have to install an airline's app in order to stream content to their own device during their flight.
"Passengers can simply start their browser, select their movie and start watching," Heimerikx explained. "For us, this is a game-changer because we can reach a much wider audience without them needing to have an app," he added.
Smartwatch-empowered crew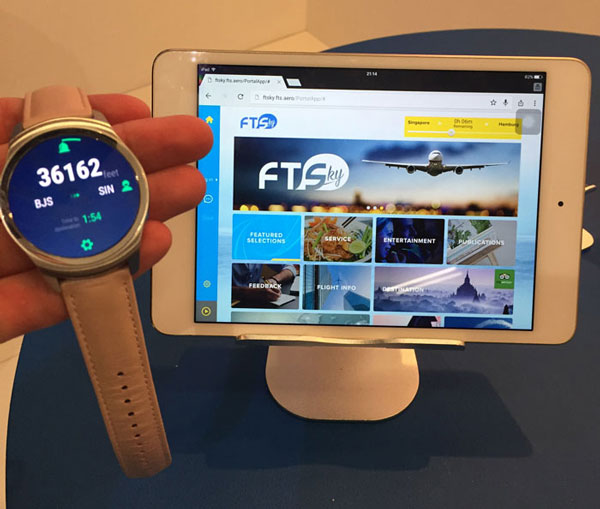 FTS also highlighted the potential of smartwatches to FTE. As demonstrated by Ben Fuller, Director of Marketing for the Americas, crew can receive and fulfil passengers' orders and requests without having to run back and forth between the passenger and the galley. For instance, a passenger can order a drink or a blanket via their own device and flight attendants immediately receive a notification via their smartwatch app. As well as making for a seamless customer experience, this solution can help to increase efficiency on board.
Fuller also revealed that FTS is exploring a combined order on board with home delivery solution, which would allow passengers to order goods in-flight and have them delivered directly to their home address.