Making use of new technology to improve in-flight efficiency and empowering crew members to interact with passengers in a more personalised manner are important elements of most airlines' broader customer experience strategies. Here we take a look at how five recent initiatives are helping to improve onboard service and experiences.
Delta exploits the power of big data in-flight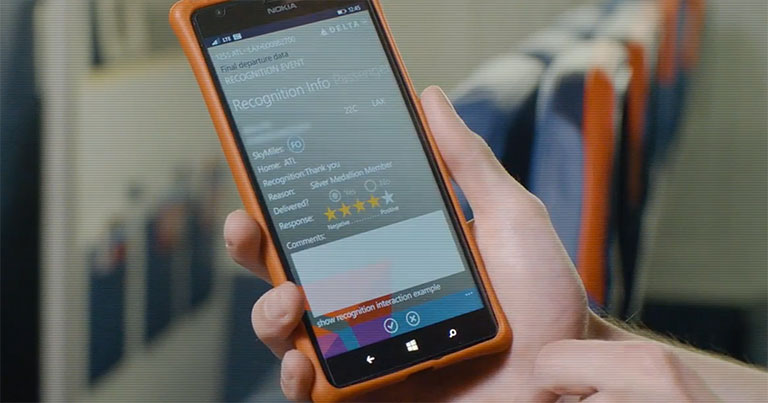 Delta Air Lines' flight attendants are now making use of big data in-flight, following the launch of the latest version of its Guest Service Tool in May 2017.
The tool already provided customer information like name, status and connecting gate via handheld devices. This has now been extended and on domestic flights, attendants are being given a prioritised list of customers to recognise based on details like Medallion status, achieved milestones, recent flight interruptions and their standing as a corporate traveller. The idea behind this is to empower crew to quickly identify the customer and further personalise their interactions with them.
For example, if a passenger has reached 1 million frequent flyer miles or if they have experienced a delay recently, flight attendants can recognise this event and tailor their interactions with the customer accordingly.
According to the carrier, if every flight crew recognised 20 customers on every flight, Delta would "personally touch the travel experience of 50,000 customers each day".
Allison Ausband, Senior Vice President – In-Flight Service, explained: "Our flight attendants spend the most time with our customers, giving them the greatest opportunity to differentiate the travel experience. Continued feedback from our Medallion flyers shows that they highly value being recognised onboard and now, we are making it easier for flight attendants to personalise recognition with targeted information at their fingertips."
Following each interaction, flight attendants note the customer response. Following analysis of feedback on 75 domestic flights, Delta reported that less than 1% of "recognition events" resulted in negative customer feedback.
In the 'Up in the Air' conference at FTE Global 2017 (6-8 September, Las Vegas), Delta Air Lines' General Manager Inflight Technology, Angela Gammill, will offer further insight into how flight attendants are using big data to personalise the onboard experience. Find out more.
Lufthansa uses iPad minis to enhance efficiency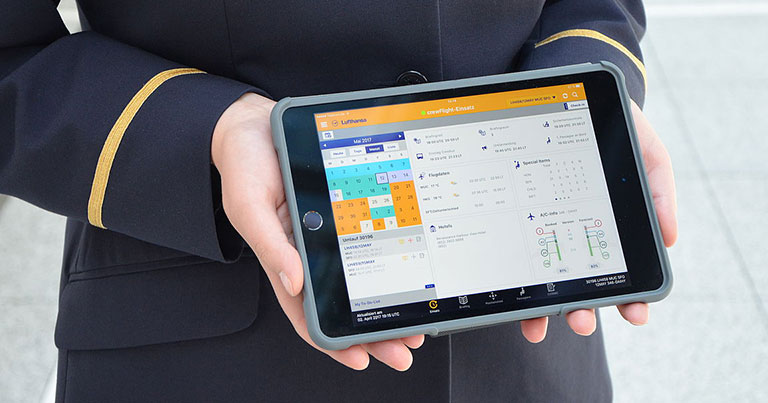 In June 2017, Lufthansa announced that it will equip 20,000 flight attendants with iPad minis. Using the "Lufthansa crewFlight" app, cabin crew will be able to access information such as seating plans and passenger information. The project is an important part of Lufthansa's "year of digitalisation".
Previously, Lufthansa introduced an Electronic Flight Bag (EFB), which has been in operation in the cockpit since the beginning of 2015 and is used by 4,300 pilots for flight planning and operations. Also, cabin crew managers received a tablet device, and this is now being extended to include all cabin crew as a result of the positive feedback.
The Cabin Mobile Device (CMD) will allow flight attendants to access all the data they need to work onboard, including service manuals and schedules, and to easily view any changes in plans. The CMD simplifies the existing process so that staff have more time to serve customers. It will also improve communication with other personnel on board.
The Cabin Mobile Device project is part of a major programme of transformation called 'OPSession', which aims to further digitalise the operational areas at Lufthansa, SWISS and Austrian Airlines.
Air New Zealand explores the potential of Microsoft HoloLens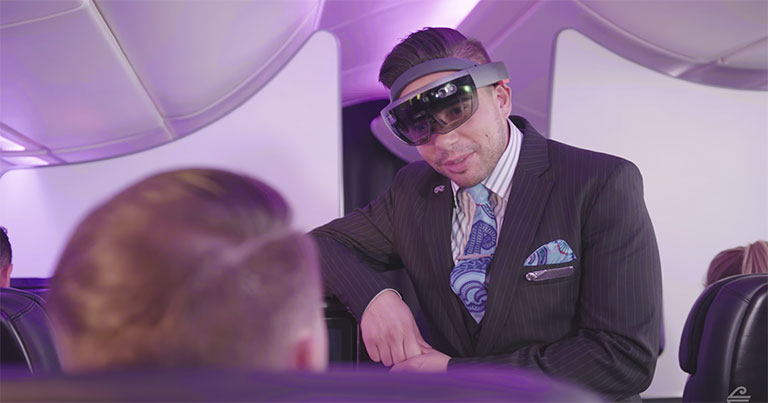 Although the potential of wearable technology onboard aircraft continues to divide opinion, this has not stopped Air New Zealand from undertaking a pioneering trial using a Microsoft HoloLens headset to explore what impact the technology could have on in-flight service.
HoloLens is a self-contained, mixed reality device that allows the wearer to engage with digital content and interact with holograms in the real world around them. Air New Zealand has been exploring how it can support crew by aggregating and displaying key customer information in front of them.
For instance, data such as a customer's preferred meal and drinks choice, onward travel plans and loyalty membership details could be displayed. The programme is even sophisticated enough to detect the emotion of the customer by picking up on visual and audio cues.
Air New Zealand Chief Digital Officer Avi Golan, explained: "This software is a great example of us collaborating with other partners and exploring how technology could enhance the way our people work, as well as the experience they deliver to our customers through greater personalisation."
Air New Zealand's Chief Digital Officer, Avi Golan, will deliver a keynote address at the free to attend Future Travel Experience Asia EXPO 2017, which will take place at the Marina Bay Sands in Singapore, 7-8 November 2017. Find out more.
Philippine Airlines equips flight attendants with 'CrewTab' device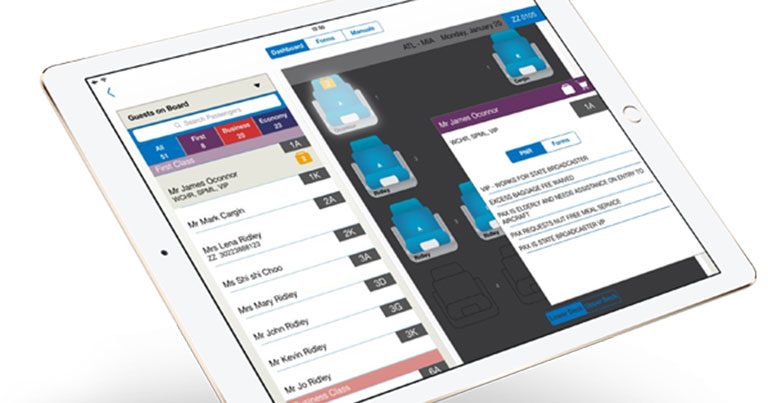 Philippine Airlines (PAL) has been working with SITAONAIR to co-develop a "CrewTab" solution, which is being designed to enhance in-flight service delivery.
PAL information will be delivered and stored on tablets provided to flight attendants, enabling them to digitally view operational data, from general passenger profiles and company service bulletins, to the latest products and service offerings.
The solution will empower crew members to deliver a more personalised and efficient level of service through timely reporting of passenger feedback. They will be able to update passenger information on the go, including specific experience and onboard shopping requests.
Philippine Airlines President and Chief Operating Officer Jaime Bautista said: "As we work towards achieving our vision of becoming a full-service five star carrier, PAL is highly focused on the benefits that new and emerging technologies can bring."
Japan Airlines improves engagement with low-tech stickers
Not every crew empowerment initiative relies on technology. Highlighting this, Japan Airlines recently equipped its flight attendants with stickers relating to their home city or state. For instance, if the flight attendant is from Tokyo, they will have been given a batch of stickers/badges relating to Tokyo.
The stickers were initially introduced to make it easier for passengers to relate to and communicate with cabin crew, and to encourage personal interactions in an age dominated by technology. If a passengers strikes up a conversation with a flight attendant about their sticker (and, in turn, their hometown, for instance), they will be offered a sticker to add to their own collection.
The initiative has been an unexpected social media success, with people talking about it on Facebook and Twitter, and some travellers even buying and selling the stickers online.
As well as helping to build a positive relationship between frontline staff and passengers, the initiative has helped to promote the Japan Airlines brand across the country and further afield.