The shortlist for the Crystal Cabin Awards, for which Future Travel Experience is a Media Partner, has been unveiled with a total of 105 entries from 21 countries, marking a new record for the seventh consecutive year.
Among the entrants are airlines, suppliers, universities and major aircraft manufacturers. The awards cover eight categories, including Cabin Concepts; Cabin Systems; In-flight Entertainment and Connectivity; Greener Cabin, Health, Safety and Environment; Material & Components; Passenger Comfort Hardware; University; and Visionary Concepts.
For each category, the 27-person jury will select three finalists, which will be announced at the beginning of March. The finalists get to pitch their concepts to the jury in person at Aircraft Interiors Expo in Hamburg and the winners will be announced at a gala dinner in the trading floor hall of the Chamber of Commerce on 31 March.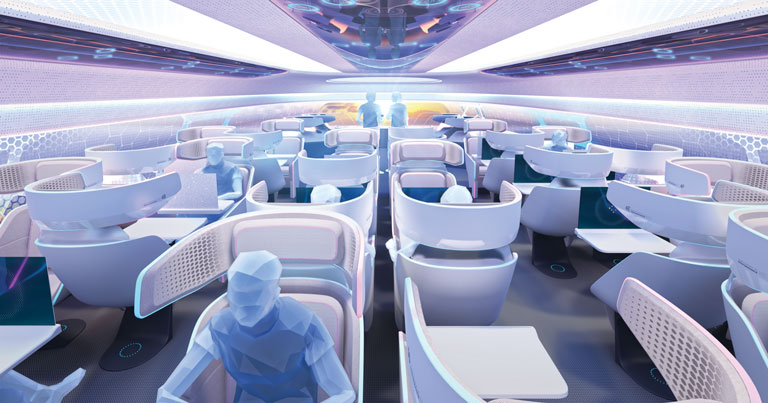 A number of submissions this year focus on revolutionising the way we imagine the cabin layout. For instance, Dubai Aviation Engineering Projects has been nominated for its Retractable Aircraft Cabin, which allows whole rooms from restaurants to spas, to be inserted into the aircraft cabin during ground handling. Flexible cabin configuration is on the agenda at Airbus, too. The aircraft manufacturer's Cabin Vision 2030 presents an extension to its Airspace concept, equipping the cabin with more flexible seating and sleeping configurations along with exchangeable modules.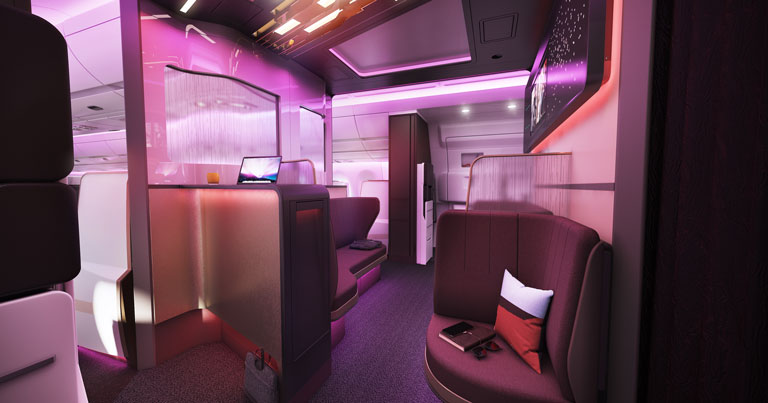 Acumen has made the shortlist with The Room, a luxurious Business Class for All Nippon Airways, combining modern, Japanese style with features such as the widest seat in its class so far. Virgin Atlantic's 'The Loft', created for the airline's first A350-1000, features mood lighting in the entry area as passengers board, transforming the area to an exclusive lounge and bar for premium class passengers during the flight. In a first for the Crystal Cabin Award, a cabin concept has been submitted for VTOL (vertical take-off and landing) aircraft. Safran, in collaboration with Uber, has entered a four-seat layout for eight-minute city flights in electric taxi drones.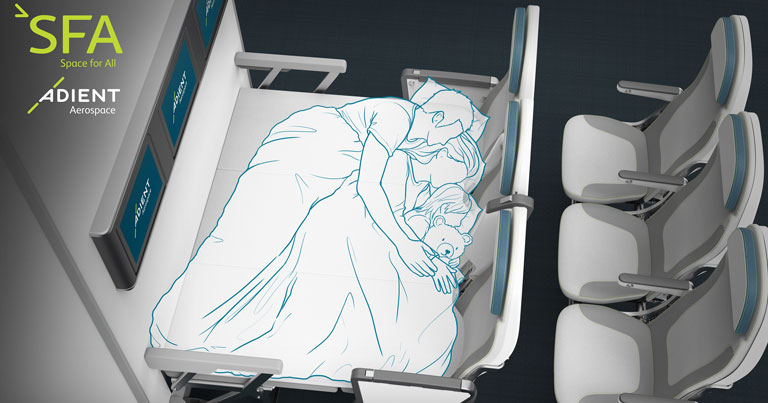 A number of shortlisted ideas show that airlines are also focusing on enhancing the passenger experience in economy class. Hamburg-based Heinkel has designed a mechanism for rotating aircraft seats to create a 'Flex Lounge' with four passengers facing each other. Shortlisted entrant Adient adds an extension/retraction mechanism to the seating row behind the partition separating Business Class from Economy, often used by families, creating a large single surface for parents and children to lay down together. Emirates has also entered with the Eco Seat, which reduces seat weight while increasing comfort and legroom compared to earlier seat generations.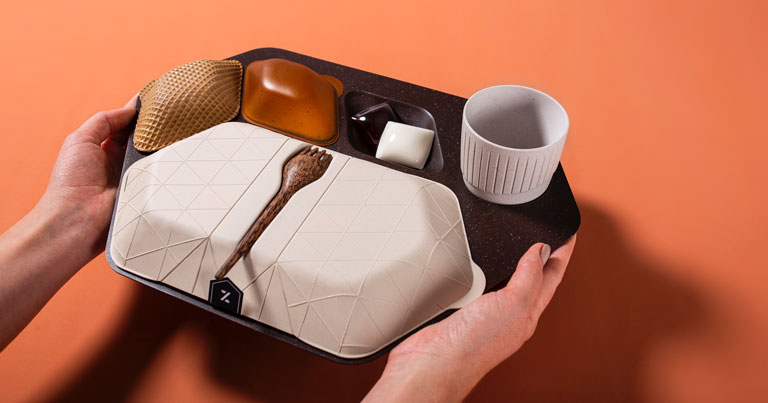 Unsurprisingly, this year sees a strong focus on sustainability. It is estimated that the aircraft cabin itself is responsible for approximately 5-10% of an aircraft's CO2 emissions. Among the entries in this category is PriestmanGoode's ZERO Economy Meal Tray, designed to reduce the use of plastic inflight.
Airlines and service providers are also exploring the opportunities created by inflight entertainment. JetBlue's entry, for example, is leveraging on the fact that passengers travel with smartphone and tablet by introducing the Multi Screen Experience, facilitating binge watching and surfing in parallel at the highest quality on all devices.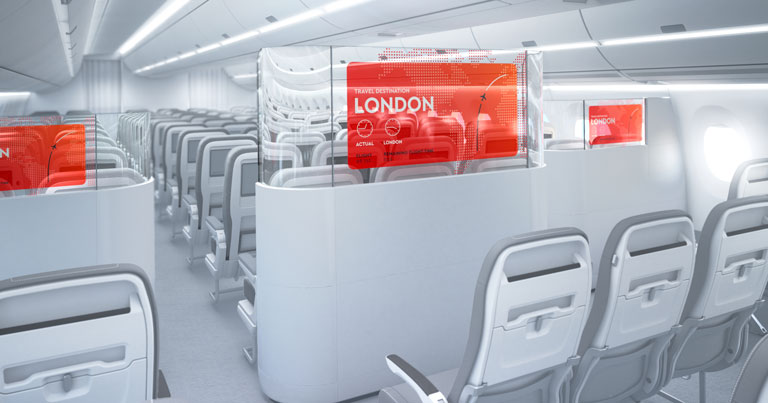 Several submissions in this year's Crystal Cabin Awards have presented innovation in the cabin wall. For instance, AERQ, a joint venture of LG and Lufthansa Technik, aims to make the partitions between classes almost invisible. Instead of partition walls, transparent screens will show passengers information and offers from the airline. SFS Intech and Hamburg-based startup jetlite, member of the FTE Startup Hub, have entered lite2fix, an innovative method for attaching the cabin walls. This will not only make it easier to integrate the wall shells in the fuselage, but also expand them with tailored LED panels. These can be used to identify emergency exits or for lighting concepts developed by jetlite to reduce jetlag.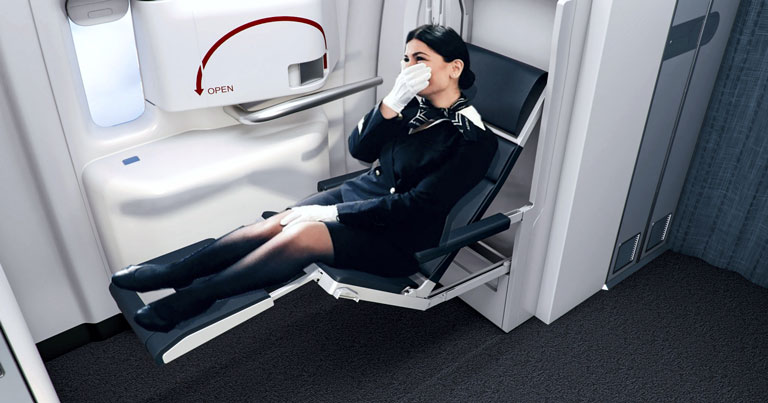 Another trend among the finalists is enhancing wellbeing inflight. In support of its Project Sunrise proposition, Qantas in cooperation with Charles Perkins Centre Health and Wellbeing in the Air has submitted a whole raft of fitness exercises, lighting concepts and more to make sure that the 18.5-hour flight will not leave passengers exhausted. To ensure the crew is also more refreshed on arrival Collins Aerospace has developed a folding bed, the Zero-G Attendant Seat, for crew members to relax in the entry area.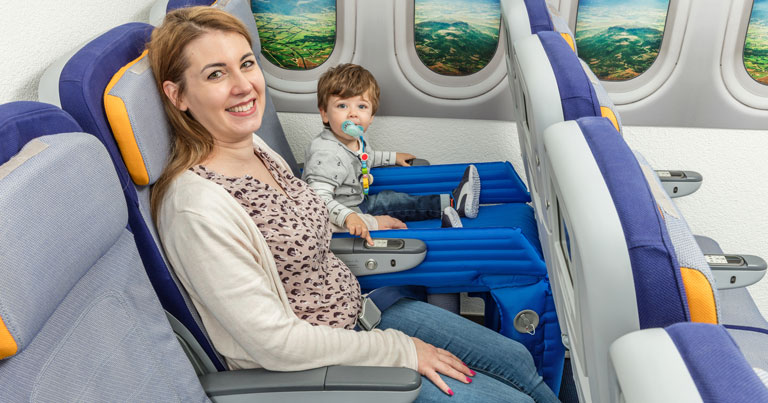 Addressing the challenge of flying with small children and people with disabilities, this year's entries once again include a range of ideas for these target groups. The University of Applied Sciences Hamburg has developed Isotravel, an adapter that makes use of proven Isofix technology to allow child car seats to be safely installed in the aircraft cabin. Swiss company Aircraft Innovations also wants to transform the Economy Class seat into a child-friendly environment. Its Junior Comfort Seat consists of an inflatable element to protect the child from falling into the footwell. To help transform the passenger experience for people with reduced mobility, Ciara Crawford has proposed The Row 1 Aircraft Wheelchair, which simply slides above the aircraft seat, saving passengers with walking difficulties from getting out of the wheelchair between the gate and the cabin.
The full Crystal Cabin Awards shortlist can be found on the Crystal Cabin Award website.