The full version of the Think Tank session is available to watch above. Simply click the 'play' button to watch the full video.
The second phase of the FTE APEX Business Model Transformation Think Tank was presented last week during FTE APEX Virtual Expo 2021, bringing together senior experts from across the industry to share some tangible solutions that can help to improve the passenger experience and generate new revenues.
The first phase of the project was presented at the inaugural Virtual Expo last December, during which the Think Tank working group identified two key areas of the travel experience that can be significantly improved – the way passengers purchase and consume food & beverage (F&B), and providing passengers with a reliable and seamless end-to-end baggage experience.
Building on this, the Think Tank members reconvened before and during Virtual Expo 2021 to build on the initial ideas, share their latest progress and offer insight into their further evolved thinking around these ideas.
Among the participants in this high-level session were Christina Cassotis, CEO, Pittsburgh International Airport; Samuel Ingalls, Principal, Barich, Inc.; Satyaki Raghunath, Chief Strategy & Development Officer, Bangalore International Airport Limited (BIAL); Javed Malik, Group Chief Operations Officer, AirAsia; Robert Carey, former Chief Commercial Officer, easyJet; Juha Jarvinen, Chief Commercial Officer, Virgin Atlantic & President Emeritus, APEX; Andrew Price, Independent Consultant & Former Head of Global Baggage Operations, IATA; Kian Gould, Chairman of the Board, Omnevo; and Daniel Coleman, Founder & CEO, Future Travel Experience.
Building a seamless end-to-end baggage experience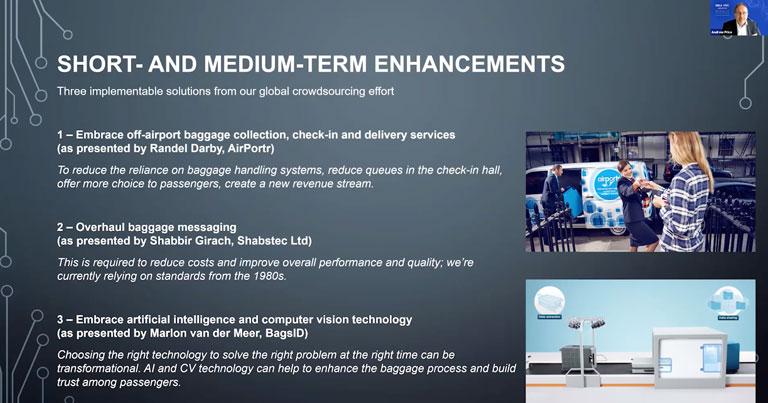 The Think Tank session kicked off with a joint presentation by Ingalls and Price, who focused on transforming the processes and business model around the baggage experience.
During their scene-setting presentation, they shared implementable solutions derived from a recent crowdsourcing effort and collaborative Zoom call, in which FTE invited industry stakeholders from around the world to submit their ideas and visions to help solve the following problem statement: "How can the air transport industry create a more reliable and seamless end-to-end baggage journey that empowers passengers, reduces the reliance on decades-old processes, and/or creates a new joint revenue stream for airports, airlines and their partners?"
Among the short- and medium-term recommendations that were highlighted as having the potential to revolutionise baggage processing were embracing off-airport baggage collection, check-in and delivery services (as presented by AirPortr during the crowdsourcing effort); overhauling baggage messaging (as presented by Shabstec Ltd); and embracing artificial intelligence and computer vision technology (as presented by BagsID Network).
All of the presentations from the startups and innovators who took part in the final round of the crowdsourcing effort are still available to watch in the FTE APEX Virtual Expo OnDemand Speaker Zone, which you can access via this page. The presentations will remain online until 25 June.
Focusing on longer-term solutions, Ingalls and Price outlined a vision that includes embracing reusable and virtual bag tags; moving away from traditional baggage handling systems; and utilising automated guidance vehicles to enhance efficiency.
Ingalls said: "Baggage is often the overlooked and undervalued piece of the aviation experience, but it certainly doesn't deserve that. The movement of baggage is key to so many aspects of the travel experience and what we have really tried to do is to keep the passenger clearly in mind."
Price added: "I think this Think Tank could not have come at a better time. As we are all getting ready for increased volumes, we will see the need for smarter solutions in the baggage business."
Redefining F&B in travel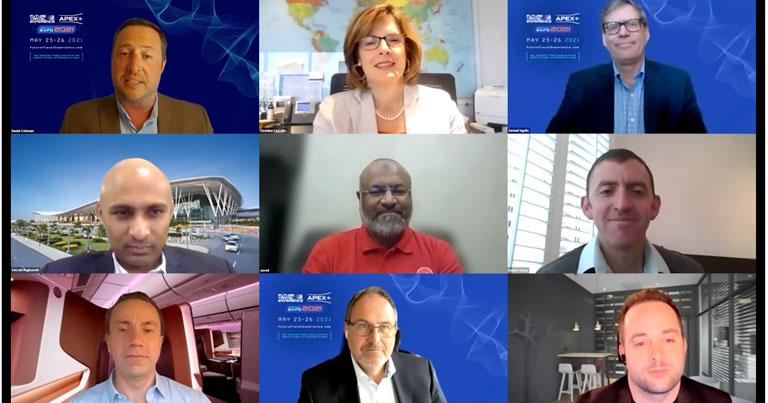 The second segment of the Think Tank session focused on new approaches to food & beverage (F&B) in travel, and building new e-commerce retail opportunities.
Explaining the vision, FTE's Coleman shared: "We felt that this could create new innovative F&B partnerships between airports, airlines, concessionaires, caterers and even downtown partners. We wanted to enable gate delivery of F&B products and inflight ordering of meals for collection upon arrival at the airport destination."
Since last year's initial Think Tank recommendations, Bengaluru International Airport has worked closely with airlines in an effort to bring this vision into reality. Raghunath shared some of the key learnings and challenges: "We're still in the early stages of the project but we've had some really interesting discussions in the aftermath of our December conversations," he explained. "We have been speaking with three airlines in terms of what we could do on the F&B side of things. One of the things that COVID-19 has done is change behaviours. Airports and airlines and other members of the stakeholder community are far more open to the idea of collaboration and working together on three main areas – reducing costs, generating additional revenues and addressing sustainability."
Kian Gould, Chairman of the Board, Omnevo, then took to the virtual stage to share how some of the concepts discussed during the Think Tank session can be applied through the recently launched Omnevo platform.
He explained: "Our digital approach leads to waste reduction, improved sustainability, and enhanced customer satisfaction while making a previous cost centre into a profit centre. We have created a very unique suite of solutions that cover the entire value proposition from catering management to pre-order to buy-on-board to home delivery, all that integrated with any caterer or supplier within all of the channels the airline can accommodate." You can watch Gould's full presentation as part of the video at the top of this article.
FTE's Coleman also took the opportunity to announce that Future Travel Experience will be hosting a number of online industry-wide baggage working groups in the coming months to drive the progress of the Think Tank forward. The input of these baggage workshops will be shared later in the year at the FTE Global 2021 show in Las Vegas.
"We now look forward to seeing how the industry can build on these tangible recommendations in the coming months with the working groups we announce today. We want this output to be the catalyst for more business model transformation ideas and for it to lead to a lot more proof of concepts and trials between stakeholders," he concluded.
The FTE APEX Virtual Expo 2021 platform will remain open as a resource until 25th June 2021. Premium Pass holders can catch up on sessions from the Auditorium and OnDemand Speaker Zone, while a number of free-to-attend sessions are available in the Expo Conference. The exhibition hall also remains open and is free to access for all.
Enter the Virtual Expo platform – open until 25 June >>