The potential introduction of so-called "Family Booths" on Thomson Airways' Boeing 737 MAX aircraft may have grabbed the headlines when the leisure carrier unveiled its vision to "revolutionise holiday travel" in October last year, but one of the more pressing conundrums facing the airline relates to onboard connectivity.
Speaking directly to FTE after delivering a presentation in the 'Up in the Air' conference at Future Travel Experience Europe 2015 in London, Carl Gissing, Director of Customer Service at TUI Travel UK, the carrier's parent company, put into context the gravity of the decisions that must soon be made.
"As an organisation, Thomson Airways has some really difficult decisions to make when it comes to investment," he said. "And whilst connectivity is something that we're really keen to implement on our fleet, it's really the business case to cover the cost of doing that that we have to take into account.
"Our strategy is definitely about providing a differentiated customer experience and we want to be able to use things like in-flight entertainment, real-time connectivity, wireless streaming, all that kind of stuff to help us to develop the business case. Our opportunity to do that lies between now and the decisions around the configuration of our 737 MAX order."
While delivery of the first of 47 737 MAXs is still at least three years away, a final decision needs to be made far sooner. "We are right now in the process of determining a recommendation paper for our supervisory board in the TUI Group and that is about what our vision is around in-flight entertainment, connectivity and the efficiencies and the benefits from a customer perspective that the vision will bring. We have to do that by the end of the second quarter to enable the design and the specifications to be fixed during the rest of this year. It's really quite a critical decision to make."
Assessing the impact of iPad-equipped crew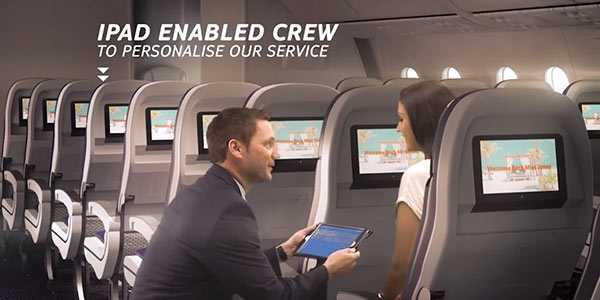 As Gissing pointed out, Thomson Airways, thanks to its position in the TUI Group, is in a unique position in that it "owns" the wider travel experience – "our customers buy a holiday, they don't just buy a flight". With this in mind, the airline has already trialled the impact on the end-to-end experience of equipping cabin crew with iPads. As Gissing said, this is very much about "how we use data to be able to personalise and individualise the customer experience".
During the trial, 98.1% of respondents rated their cabin crew service as either "excellent" or "very good", customer satisfaction ratings peaked at 86 in August compared to the UK average of 83, and 83% of staff surveyed either "agreed" or "strongly agreed" that the iPad improved their ability to do their job.
"If you think of a real-life example where it might be somebody's birthday, someone's anniversary, or another really special occasion, ground to air connectivity enables us to pass that information through that pipeline to our resort staff overseas to make them aware of that very special occasion and to continue to personalise that experience."
'Everything is an option'
So, will this positive feedback impact the final connectivity decision? "We can actually do that without real-time connectivity," Gissing said, "but if you think then outside of the consumer space into the operational space, things like cabin defects, things that cabin crew would pick up versus the flight crew…if we can pass that information across in real-time to the next station that really helps us with our efficiency with preparing for things like maintenance."
In light of Gissing's identification of wider e-enablement benefits, FTE pressed him to find out if this means "lighter" connectivity solutions can be ruled out; things like scalable networks that host content on a local server.
"I think that everything is an option," Gissing responded. "I guess we're open to every single option and we need to evaluate every option. The customer side of things in terms of how they would use the full benefits of connectivity in a holiday airline are probably less important than they are in a scheduled airline. So a lighter solution would be something that could potentially be more attractive to us than the sort of "full monty" as you might call it from the legacy supplier base."
With a lot of tough questions to consider and the deadline for answers looming, it's no surprise that Gissing sees this as a "critical decision". There will surely be plenty more of these to face between now and the delivery of Thomson Airways' first 737 MAX in 2018.