In a major development, Lufthansa has launched one of its biggest-ever customer experience enhancements. Lufthansa Allegris redefines the airline's approach to long-haul travel. In this exclusive interview, Dr. Björn Becker, Head of Program Future Intercont Experience, Lufthansa Group, explains the Allegris innovations and the emphasis on choice and personalisation to transform the passenger experience. Becker also previews his participation at the co-located FTE EMEA and FTE Ancillary & Retailing (Dublin, 23-25 May 2023), where he will present how Lufthansa is leveraging the Metaverse with partners Meta Reality Labs and MSM.digital.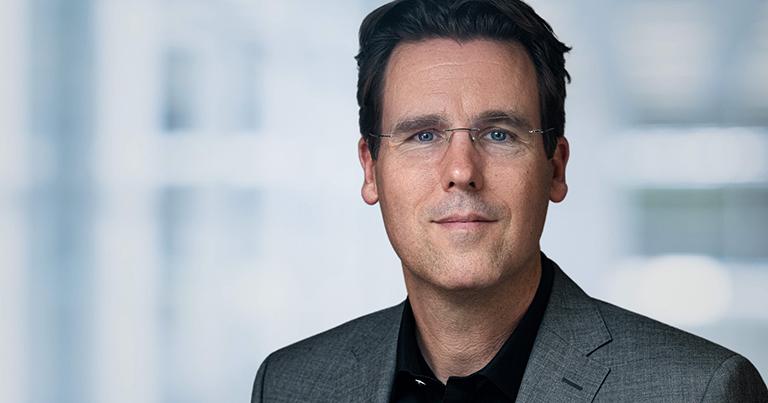 The guiding principles in the development of Lufthansa Allegris were 'choice' and 'simplicity'. At its heart, it is about individualising travel and doing so in a way that is simple for customers.
"Lufthansa Allegris is one of the biggest improvements we have ever introduced for our customer experience," Becker shares. "With more than 100 new aircraft that will be equipped, but also new options on ground services as well as an improved, simplified flow to select your seats in all booking channels, we will offer a truly premium, innovative and thought-through product that offers individual choices to our customers in all travel classes."
Allegris will be introduced on the Boeing 787-9 by the end of 2023, while the Airbus A350-900 will be the first to introduce the new First Class in early 2024. The airline is investing €2.5 billion in what Becker describes as "a completely new travel experience on long-haul routes", with key elements including:
Lufthansa is offering a suite concept in First and Business Class for the first time.
First Class Suite Plus for guests travelling together or as a high-end product for travelling alone, with a double seat that can be converted into a full double bed or one separated seat and bed.
Suites in the first row of Business Class, as well as a flexible privacy divider double seat for travelling alone or together with more privacy.
Heating and cooling on all Business and First Class seats together with individual airflow for a personalised micro-climate.
Specially-designed shoulder sink-in on all Business and First Class seats for more comfortable sleep.
A new Premium Economy Class with a modern seat in a hard-shell design, greater seat pitch (99cm), wireless charging, and noise-cancelling headphones.
Economy Class with greater seat pitch (79cm), tablet holders, USB ports and additional comfort in the first rows (86cm seat pitch).
Next-level IFEC with large 4K screens and Bluetooth connectivity in all classes, plus Personal Control Units (touchpads) for all seat and IFE controls that can be mirrored to the personal devices of travellers.
More than 100 new Lufthansa Group aircraft will be equipped with the new long-haul product. This includes the Boeing 777-9, in addition to the Boeing 787-9 and Airbus A350, while existing Boeing 747-8s will be retrofitted with Allegris.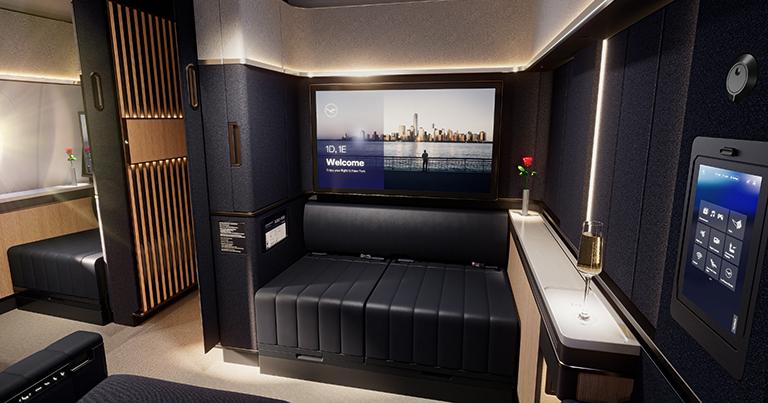 CoCreationHub: "Tailoring product offer to the needs of customers"
The individuality comes in passengers' ability to create their own travel experience according to their personal needs, with choices in seats, meals and other elements of the journey.
"We believe that premium is not about 'golden tabs'," says Becker. "It is more about tailoring your product offer to the needs of your customers and delivering the opportunity to customise their trip based on their personal preferences, but also situational needs such as a day versus night flight."
A truly collaborative approach has been taken to the development of Allegris. Lufthansa Group last year launched its 'CoCreationHub' to involve customers in the process of generating new ideas and delivering valuable feedback. "We have always integrated our customers into our product design," Becker explains. "We are proud that we have a great and loyal customer base, who are interested in providing feedback and helping us improve our products. This started already with the cabin and seat development, and since launching our 'CoCreationHub' thousands of customers with a lot of different perspectives have supported us with our product and service development. For example, even the product name Lufthansa Allegris was sounded within our 'CoCreationHub'."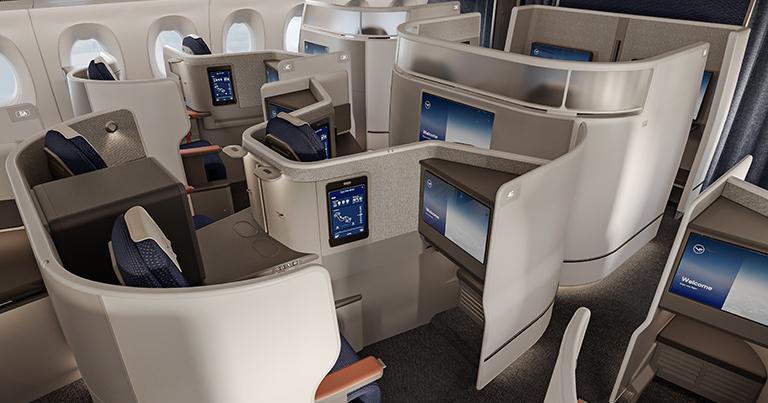 Experience Lufthansa Allegris in the Metaverse at FTE Dublin 2023
The Metaverse is undoubtedly a hot topic right now and features in FTE's 10 technology trends that can enhance airline and airport operations in 2023. Lufthansa sees significant potential in the technology. The Allegris launch blended the physical and digital, with the airline's new Metaverse event location, that has been developed with MSM.digital and RAUM, having a key role.
"In parallel to our product launch event in Berlin, we are performing Metaverse product launch events for selected customers in Asia Pacific and the Americas," says Becker. "We have a virtual event room with presentations, virtual models of all seats, and the possibility to 'teleport' into one of our aircraft to experience the whole cabin virtually. Everybody attends with preconfigured Virtual Reality (VR) glasses for a fully immersive experience."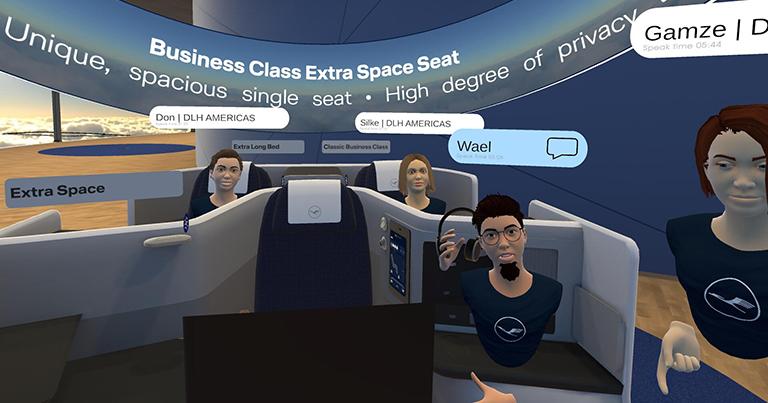 Attendees at the co-located FTE EMEA and FTE Ancillary & Retailing, will hear more on how Lufthansa is leveraging the Metaverse with Mixed Reality to champion new product offerings. Becker will deliver a case study alongside Bastian Schütz, Product & Business Development, Meta Reality Labs and Camillo Stark, Deputy Managing Director (AR/VR Labs), MSM.digital.
"We will show our Metaverse event location and our Mixed Reality technology, providing some impulses on further use cases for this technology and what you can do by bringing strong partners together," Becker explains.
There will also be dedicated space in the exhibition at FTE EMEA and FTE Ancillary & Retailing where attendees can take a VR headset, enter Lufthansa's Metaverse event location or the Mixed Reality full-scale model of the cabin, and experience Allegris for themselves.
Register for FTE EMEA and FTE Ancillary & Retailing – one registration provides access to both events >>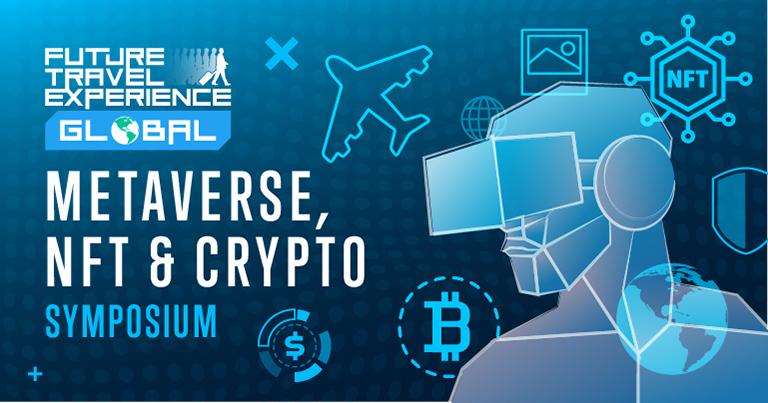 Lufthansa plans to further develop its Metaverse space into a virtual product world, where it can showcase its products, to both customers and colleagues, in an immersive way.
"Mixed Reality is one of the coolest and most powerful tools I have seen for a long time," says Becker. "You can compare it with a hologram that appears in your space and that you can interact with – either single seats or even the whole cabin in full scale. It's an immersive experience you can use for marketing purposes, but also training and even cabin development, replacing wooden mock-ups."
As part of its firm focus on innovation, Becker adds that Lufthansa continues to explore technologies to further enhance the passenger experience. "We just launched our new Lufthansa App, with new features and a modern IT architecture and improved user experience (see FTE's report here). Furthermore, we are intensively working on enhancing and digitalising our customer services with Artificial Intelligence and Machine Learning technologies."
Register for FTE EMEA and FTE Ancillary & Retailing – one registration provides access to both events >>