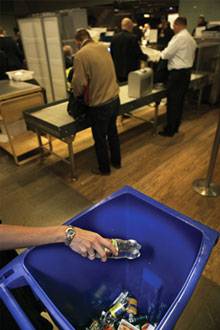 The current limitations on the amount of liquids, aerosols and gels (LAGs) that passengers can bring onboard a flight will remain in place for the foreseeable future after the European Union (EU) abandoned the scheduled lifting of restrictions.
The restrictions were expected to be lifted in an initial phase in April 2013, but the European Commission has recommended an indefinite delay because of the need for improvements in the LAGs screening equipment.
A statement from the Commission said: "The removal of the restrictions in April 2013, as currently envisaged in EU law, could present a considerable operational risk mainly due to the scale of the change."
This latest delay means that passengers will continue to be limited to 100ml containers of LAGs in their cabin baggage, all of which must fit in a clear, sealable plastic bag.