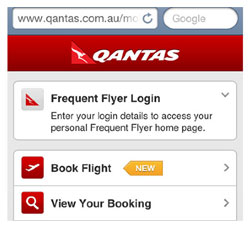 Australian flag carrier Qantas has introduced a new function to its mobile website that allows passengers to book domestic and international tickets directly via their mobile device.
Lyell Strambi, CEO, Qantas Domestic, said: "The Qantas Mobile site now makes it easier for our customers to book their flights while on the move. We have listened to our customers who want greater convenience in the booking process. They want flexibility to book flights away from their home or office, or on their way to the airport.
"Our customers can now book and pay for flights and check-in, all in the palm of their hand."
The new booking function is available for customers flying from Australia, New Zealand, Singapore, the UK and the US.