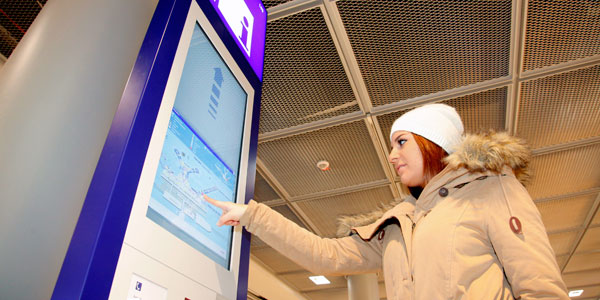 Results from the 2012 SITA Air Transport World Passenger Self-Service Survey have shown that Frankfurt Airport has the highest number of self-service bag drops and self-service check-ins in the world.
This is due, in no small part, to the airport's "Great to Have You Here!" programme, which has seen it become a world leader in pioneering airport technology.
Frankfurt Airport's latest innovation is intelligent information kiosks. Designed by Fraport and produced by German-based Polygon GmbH, each kiosk is fitted with a barcode scanner. These scanners can read boarding passes and calculate the quickest route to the required terminal for the passenger using it.
90 units are planned for installation across both terminals, in an effort to help people navigate the airport more easily, as well as learn of any changes to gate or departure times for their flights.