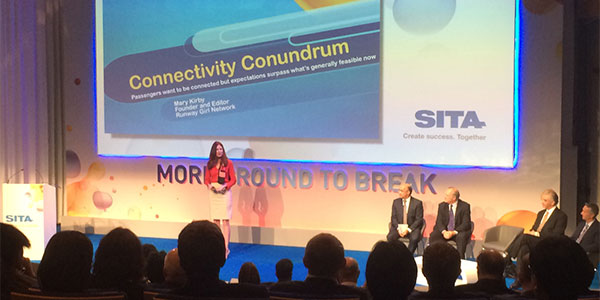 The in-flight connectivity market is a complex one, but it's also one that airlines cannot afford to ignore, as onboard Internet access continues to climb higher up passengers' lists of 'must-haves'. Airlines have a choice of a variety of options – air-to-ground (ATG), L-band, Ku-band and Ka-band, for example – and a number of new solutions are scheduled to hit the market in the near future, including the Global Xpress constellation, AT&T's 4G LTE-based service in the US, and Inmarsat's S-band hybrid satellite/ATG connectivity service across the European Union.
Clearly, the suppliers are going to have their work cut out to deliver on their promises of home-style broadband, and airlines are going to have some significant decisions to make when considering which option to invest in.
As highlighted by Mary Kirby, Founder and Editor of Runway Girl Network, the pressure is on to satisfy customers' demands. Speaking at the SITA Air Transport IT Summit in Brussels, she said: "Even though most in-flight connectivity systems cannot currently support the streaming of Netflix or HBO GO, the ability or inability to do so, at least in the United States, could become the measure by which these systems will be judged going forward."
Kirby, who will lead the Cabin Integration Symposium at FTE Global 2014, continued: "Passengers have tremendous expectations and so the pressure is on all the providers to deliver better, faster, cheaper." She explained that airlines should be aware of the fact that the presence of connectivity is also starting to be more commonly factored into the way airlines are rated. "I think we're going to see a lot more of that in the coming years."
JetBlue: Our customers deserve high-quality, free Wi-Fi
One airline that has a very clear view on the benefits of offering in-flight connectivity is JetBlue, which launched its own high-speed 'Fly-Fi' service in December 2013. According to Eash Sundaram, Executive Vice President and Chief Information Officer at JetBlue Airways, when the low-cost carrier started exploring in-flight connectivity back in 2008, it was borne out of a desire to offer an "excellent" product, and not just provide some level of connectivity for the sake of it.
"We strongly believe that passengers deserve" high-speed onboard connectivity, he said. During the beta period, Fly-Fi has been offered for free and while the service is "getting to its maturity now", Sundaram suggested that a complimentary service will remain in place, as in-flight Internet access is, he believes, now as important as having a reliable connection at home.
"We don't believe in charging," he said. "This is part of our core product and if you want a premium service you can always add a premium service, but our model is that this becomes core to JetBlue and the product offerings that we have."
Saudia leveraging connectivity for onboard customer service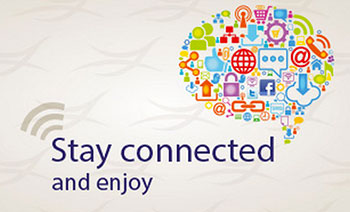 Saudi Arabian carrier Saudia has a similar mentality, at least when it comes to its premium passengers, who are offered complimentary Wi-Fi. Fourteen of the carrier's B777-300s are equipped with the service, as are 12 A330s. In January 2015, Saudia will also take delivery of the first of eight fully connected B787-9s.
"We have to provide connectivity. People now cannot afford to fly without their devices next to them," stated Abdulrahman Al Fahad, Vice President Marketing and Product Management at Saudia.
Saudia is also exploiting the potential of onboard connectivity to equip its cabin crew with tablets, which can be used to improve and personalise the onboard customer experience. "We get comments, most of them are positive, some of them are negative, and we are working to turn these negatives into positives before the passengers arrive at their destination," Al Fahad said.
If a passenger Tweets a complaint to Saudia during their flight, this is forwarded to the in-flight supervisor via their personal electronic device, who can then speak to the passenger and try to put the issue right. Real-time, pro-active customer service enabled by in-flight connectivity.
2020 vision: In-flight connectivity tailored to the individual
So, if high-speed, reliable in-flight Wi-Fi is what passengers expect today, how will the demands and capabilities evolve over the next five years or so? According to Ian Dawkins, CEO of in-flight connectivity provider OnAir, "personalising the service" will become an important trend. This, he said, will see airlines able to adapt the service offered to passengers depending on city pairs, for example, rather than rolling out fleet-wide products that don't take into account the end destination or the passenger profile.
"Today, on the ground, if I'm on the Internet, it remembers the likes and dislikes I have. That will start to merge into what the airline will have, so suddenly you'll find the Internet on the aircraft…can tailor to my dislikes and likes, and that's an important step going forward. If you go back to the digital native, that's fundamentally important – they want a personalised service."
Not only will passengers want high-speed, reliable, free in-flight connectivity, they will want a service specifically moulded to their own demands. Passengers are making it pretty clear what they want, so it's now up to the suppliers and airlines to rise to the challenge and prove they can meet these ever-increasing expectations.