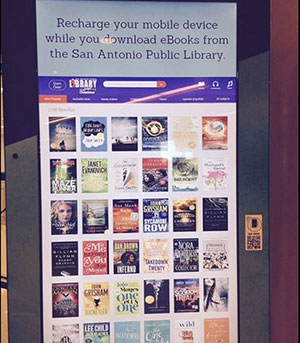 Passengers flying from San Antonio International Airport can now download digital books directly to their mobile device after the airport installed two Digital Library kiosks in the terminals.
Passengers can scroll through a vast collection of digital titles using the 55-inch touch-screens, and they can select which one they would like to download to take with them on their journey. The kiosks also offer rapid charging for mobile devices that are low on battery.
The airport has partnered with San Antonio Public Library, which has funded the kiosks, while digital distributor OverDrive has provided the software.
In a statement, the airport said "this partnership reflects the airport's extraordinary focus on customer service and convenience for its passengers".
Locals who are flying from San Antonio International Airport are able to use their San Antonio Public Library card to access the digital content, whereas those who don't have a membership can use the kiosk to sign-up for a temporary card.