2014 was the year in which this industry celebrated 100 years of flight – a lot has been achieved in that time but here at FTE we are not ones to look back. We are excited about what could come next, and we want to see positive change come about sooner rather than later. To support our efforts for FTE to be a catalyst for inspiring travel industry stakeholders to improve the passenger experience, we proclaim 2015, which marks the 10th year of Future Travel Experience, the 'FTE Year of Innovation'.
You will hear much more about our Year of Innovation in the coming weeks, including information on how our digital media and three international events this year will support this initiative, but for now we start by looking at how airlines can use the start of the New Year as a launch pad to make improvements to their onboard experience. Many of these recommendations are inspired by the FTE team's travels during the festive season.
Relaxing cabin environment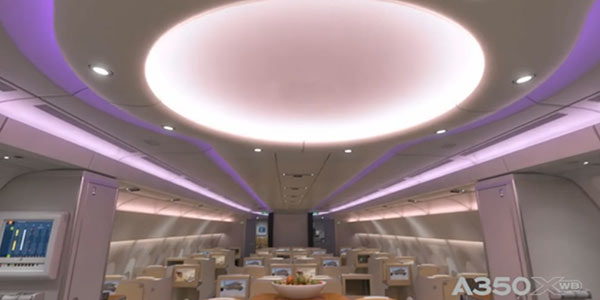 A number of recent developments, ranging from ambient lighting to larger windows that allow for more natural light, have positively impacted the cabin experience, but as many seasoned flyers know, getting some sleep can make a huge difference to how you feel upon arrival at your destination, especially on long-haul flights. It is, therefore, surprising that some airlines still do not create an environment that promotes relaxation on overnight flights. For example, on a recent long-haul flight from Asia to Europe, it was surprising that at 3am after a late departure, the cabin was still brightly lit, preventing most passengers from even trying to sleep, when it was clear that was what most, if not all, wanted to do. It might seem like a little thing, but creating the right environment can make all the difference between arriving relaxed and rejuvenated, or tired and irritable.
On the same flight, while enduring the screams and tantrums of one of the younger passengers, it got me wondering if there really is nothing that can be done to help improve the in-flight experience for fellow passengers when a younger flyer isn't enjoying theirs. How about a dedicated, soundproofed room in place of one of the lavatories? It might mean some passengers have to wait an extra minute or two to respond to the call of nature, but I'm sure most would gladly accept this if it guarantees a quieter, more relaxing flight. Also, most parents would, I'm sure, appreciate having a dedicated area away from other passengers where they can try to sooth their child who just doesn't share their parents' stress and embarrassment over the noise they are making. At the very least, all airlines could offer a "quiet zone" like those offered by AirAsia X and Scoot.
End-to-end, intuitive IFE
In-flight entertainment (IFE), a benchmark that defines many travellers' onboard experience, is an area that continues to evolve, with HD screens, second screens and wireless IFE creating big opportunities for airlines. However, on most aircraft, one age-old problem remains: the flight ending when you have just five minutes of a three-hour thriller left to watch. We know a solution to this exists (as a handful of vendors have proudly displayed to FTE in the past), but we are yet to see it in practice. The technology has been developed to allow passengers to continue watching airline-owned content on their own device once they disembark, but it's a shame that passengers are currently unable to make use of it.
Equally frustrating is arriving at the gate and realising that you have no content on your smartphone or tablet to enjoy during the flight. A solution here are media kiosks that host downloadable content for personal devices. Again, we know this solution exists, at least as a concept, but we are yet to see it where it is most needed: at the departure gate. Hopefully 2015 will be the year that these inventive solutions really gain some traction.
Furthermore, in the digital age where almost constant interactions with smartphones and tablets is the norm, an airline with an outdated, difficult-to-navigate IFE system really stands out, yet on our recent travels, it was surprising to see that even some of the newer IFE systems were far from intuitive. Some of the next-generation systems are truly impressive and the experience is akin to what you might expect from the latest tablet, but while suppliers invest heavily in trying to ensure the in-flight experience replicates what we have come to expect on the ground, airlines must make the right decisions to ensure passengers are satisfied with the end product.
Treating the passenger as a guest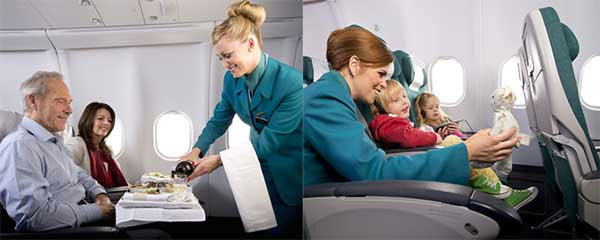 A passenger can have access to the very best technology in the world, but their experience can still be ruined if the level of customer service fails to live up to expectations. Many of the major carriers put a real emphasis on providing the best possible level of customer service – for example, Virgin Atlantic boss Craig Kreeger recently highlighted how the airline takes "amazing pride in its people", and customer service is at the heart of Aer Lingus' new service standards strategy. However, some airlines' flight attendants still fail to treat customers as guests and sometimes even come across as rude, completely ruining a customer's opinion of an airline.
Again, simple things can make a difference – Etihad Airways' Flying Nanny service is a great example of how making a little more effort can make a real difference. Providing the right service at the right time is also key, and while there has been a continuous focus on doing this at the front of the plane, it would be refreshing to see a carrier shift this focus to economy. For instance, why not allow economy passengers to choose when to have their meal, instead of forcing it upon them at a set time?
Looking at the bigger picture
In recent times, FTE has made a concerted effort to promote the value of the end-to-end travel experience, and it is reassuring to see more of an appreciation among airlines, and other key stakeholders, of the entire experience. Next-generation IFE systems have an important role to play here, and partnerships like the one between GuestLogix and Global Eagle Entertainment that allow passengers to book onward travel tickets and activities via embedded IFE screens are the key enabler. Once again, the technology is there, but it relies on airlines making the investment to truly improve the end-to-end experience.
Providing better information on connecting flights seems like another obvious way that airlines could improve the passenger experience, but it is another trick that is currently being missed by many. In the context of aircraft e-enablement, flight attendants have the ability to access the very latest information on the ground, so surely better use of this could be made. Telling a passenger with a short connection time which gate their next flight will be departing from before they even leave the aircraft can be the difference between a seamless transfer and a last-minute panic or even a missed flight.
More and better connectivity options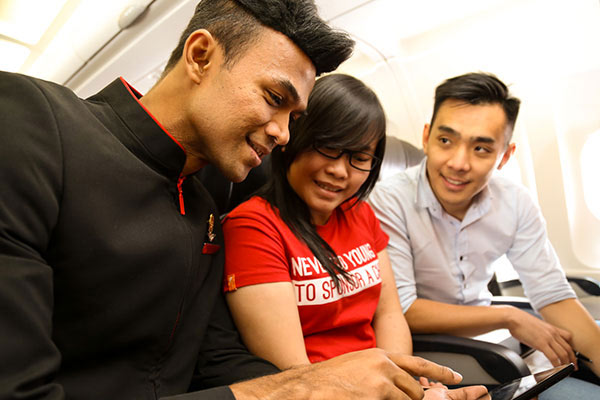 In-flight connectivity is a tricky conundrum for airlines at present. Everyone knows passengers want constant connectivity, but the costs associated with it are often prohibitive. The likes of Emirates has said onboard Wi-Fi is seen as a "value added part of Emirates' overall product, rather than a revenue stream", but most carriers aren't in a financial position to take this standpoint. The good news, however, is that with many more options to choose from, the excuses are running out for any airline not to offer some form of connectivity. Granted, high-speed, home-style Wi-Fi is what travellers really crave, and the forthcoming introduction of services like Gogo's 2Ku, which Virgin Atlantic and Aeromexico have already signed up to, have the potential to make a big difference.
Such a service is not viable for all carriers and all routes, though, but alternatives are available. AirAsia, for instance, last year partnered with roKKi to trial a low-cost inflight connectivity service with a focus on instant messaging and social media, and the carrier revealed at FTE Asia last month that the trials were a big success. Other airlines could do well to take note in 2015.
New year, new opportunities
Of course, we realise that improving the passenger experience often involves at least some level of investment, but airlines that fail to make improvements risk being left behind in the increasingly fierce battle for custom. Technological developments are a major enabler to an improved travel experience, but sometimes the "softer" elements – customer service and people-focused improvements – can play an even more important role. As we start the new year, it is an ideal time for airlines to weigh up what can be improved and what impact a seemingly small change can have on the overall customer experience.