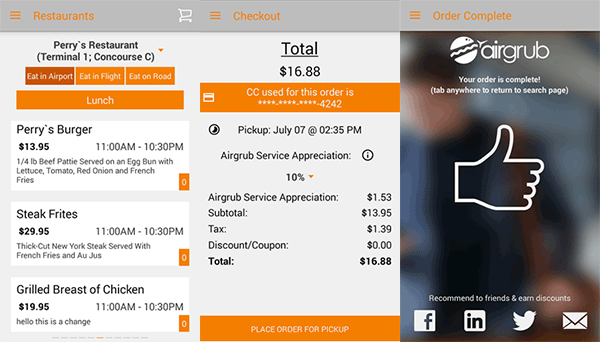 Travellers flying from San Francisco International Airport (SFO) can now pre-order meals from airport restaurants via a dedicated app, saving them having to queue up for food and drinks at the airport. The service is provided by Silicon Valley-based startup AirGrub.
Passengers simply have to select a restaurant, place an order, pay and schedule a time to pick up their meal, and when they arrive at the restaurant in the departure hall the freshly made meal is waiting to be collected. Orders can be placed weeks in advance, or even when passengers are queuing at the airport's TSA checkpoint.
Initially, travellers can use the app to order food from three restaurants at SFO – Perry's in Terminal 1, Napa Farms Market in Terminal 2 and Yankee Pier in Terminal 3.
Travellers flying from Boston Logan International Airport will also soon be able to make use of the AirGrub app.