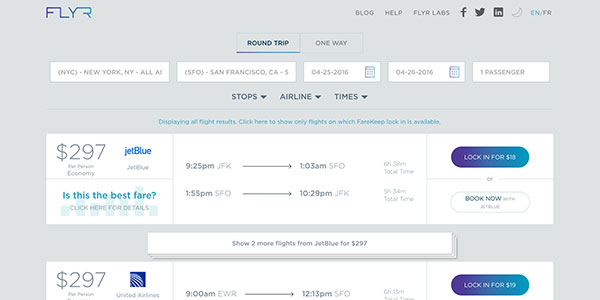 JetBlue Technology Ventures, the Silicon Valley-based startup lab recently launched by JetBlue, has selected data science company FLYR as its first investment.
FLYR leverages machine learning and predictive analytics to create price forecasts that offer travel customers peace of mind and flexibility when evaluating constantly changing airfares, and provides travel providers with insights and opportunities to increase revenue. It allows travellers to lock in their fare for seven days and claims to save users an average of $110. FLYR now plans to expand beyond its current offering to create new airline and broader hospitality sector products.
"In just a few short weeks, we have heard from hundreds of startups with incredible ideas about the future of travel," said Bonny Simi, President of JetBlue Technology Ventures. "We choose FLYR as our first investment because they share our belief that predictive analytics can provide value to travellers and will change the travel experience in ways we have yet to imagine."
"We are honoured by JetBlue Technology Ventures' investment in FLYR," said Jean Tripier, Co-founder and Chief Executive Officer of FLYR. "The interest we see from leaders within the travel industry speaks not only to the power of our solutions, but also to the utility we can offer to both consumers and travel companies.
"Constantly changing airfares have always been a source of stress for travellers. Our predictive analytics can provide peace of mind for those travellers, but also has the potential to change the way travel providers capture and satisfy early demand, bringing higher engagement with travellers and increased revenue as well."