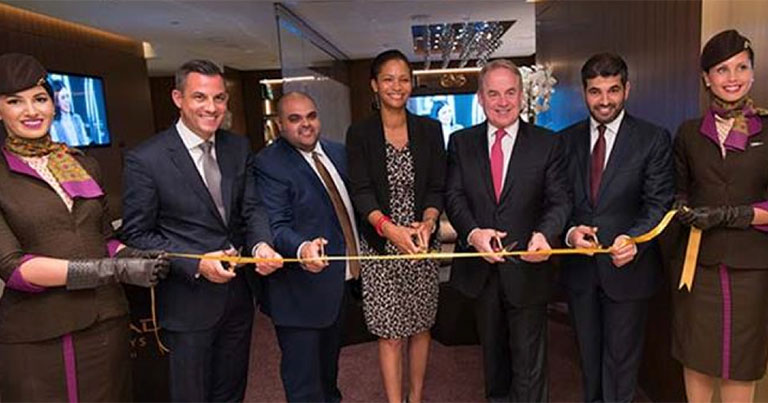 Etihad Airways has opened its first lounge for business and first class customers at Los Angeles International Airport.
The airline offers premium lounges in other airports in the US and worldwide – ranging from Washington D.C. and New York, to Frankfurt and London – but this is its first for the West Coast of the United States. Located in the Tom Bradley International Terminal, it is for passengers flying on the Etihad Airways' EY170 Boeing 777 services between Los Angeles and Abu Dhabi.
The lounge includes some of the same elements from the 'Modern Arabian' design that can be found in the airline's other new international lounges, and offers a number of further hospitality features. These include a dining and TV area, bar, shower facilities, free Wi-Fi and power outlets. Also, a VIP area is available when required.
To use this lounge, passengers must be Etihad First Class or Business Class, Etihad Platinum, a Gold or Silver member guests flying on the EY170 service, or Etihad Airways Partner airlines' equivalent of a Platinum or Gold member.
Martin Drew, Etihad Airways' Senior Vice President Americas, said: "As a world-leading airline, Etihad Airways continues to redefine travel, setting new benchmarks for innovative service on the ground and in the air.
"Our new First and Business Class Lounge in Los Angeles demonstrates our unwavering commitment to travellers on the US West Coast, and in the United States as a whole, by providing them with the intuitive hospitality they have come to expect from our people and our brand. It gives us great pleasure to inaugurate this facility."
Deborah Flint, CEO of Los Angeles World Airports (LAWA), and who will deliver a keynote address at FTE Global 2016 (7-9 September, Las Vegas), said: "LAWA and our airline partners are committed to continuing our initiatives to transform and modernise LAX into a world-class airport that Angelenos and visitors deserve. We applaud Etihad Airways in bringing this exciting, new premium lounge experience that truly caters to the modern traveller."