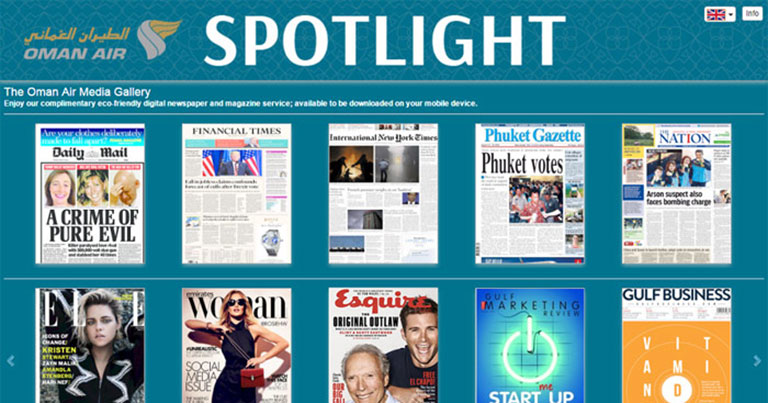 Oman Air's premium passengers will now have access to a variety of magazines and newspapers to download for in-flight reading.
The airline has announced its new 'Media Box' media library, which was developed by Media Carrier and is only available for Business and First Class customers at Muscat International Airport. Those who are eligible can connect to the airport lounge Wi-Fi from a phone or tablet, enter their name and flight information, and then start downloading content. The downloads will be unabridged and will feature the same layouts as their print counterparts.
Oman Air has also been working with United Media Services (UMS) so that a number of local and Arabian media can be accessed from the library, in addition to well-known international magazines and newspapers.
Abdulaziz Al Raisi, Executive Vice President – Products & Brand Development, said: "Oman Air is committed to continuously finding new ways to surprise and delight our customers, increase convenience and make their passenger experience even more enjoyable. We are therefore excited to have appointed the Media Box to deliver digital media services for customers in our premium lounges at Muscat International Airport.
"As a result of their excellent, longstanding expertise, the media and sales professionals from Media Carrier/UMS impressed us with their ePaper media library. This service will be warmly welcomed by our premium customers at Muscat, and further extends Oman Air's innovative digital strategy."