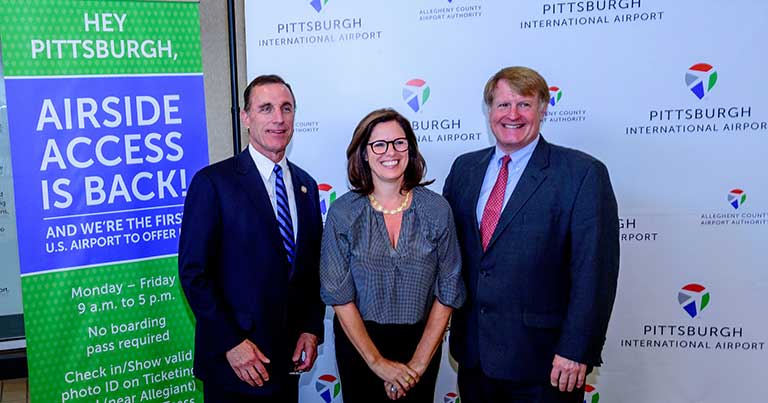 Pittsburgh International Airport has announced that it will become the first airport in the United States to re-introduce public access to airside departure gates, shops and restaurants. The airport has worked closely with the Transportation Security Administration (TSA) to offer public airside access, which was phased out across the US following 9/11.
From 5 September, the public will have year-round access to the Airside Terminal at Pittsburgh International Airport for shopping, dining and meeting/greeting passengers between 09.00 and 17.00, Monday to Friday. Through the new 'myPITpass' programme, members of the public will be able to access the Airside Terminal by following these procedures:
Check in on 3rd Floor Ticketing Level;
Show a valid photo ID (driver's license or passport);
Have name vetted and obtain stamped 'myPITpass';
Go through security checkpoint observing the same rules as passengers boarding flights.
Christina Cassotis, Allegheny County Airport Authority CEO, who is confirmed to speak at Future Travel Experience Global 2017 (6-8 September, Las Vegas), said: "Since I started here, people have been asking about being able to escort loved ones to the gate or being able to shop and dine at the airport. We have worked closely with the TSA on this programme.
"This programme builds on our successful Holiday Open House programme and airside access for guests of the airport Hyatt hotel."
The same security requirements as ticketed passengers will be followed, ensuring no reduction in security. Ticketed passengers will receive priority in the checkpoint line, and the public going airside will be strictly vetted and screened as if they were boarding an aircraft. All rules for carry-on luggage will also apply to those receiving the myPITpass for airside access.