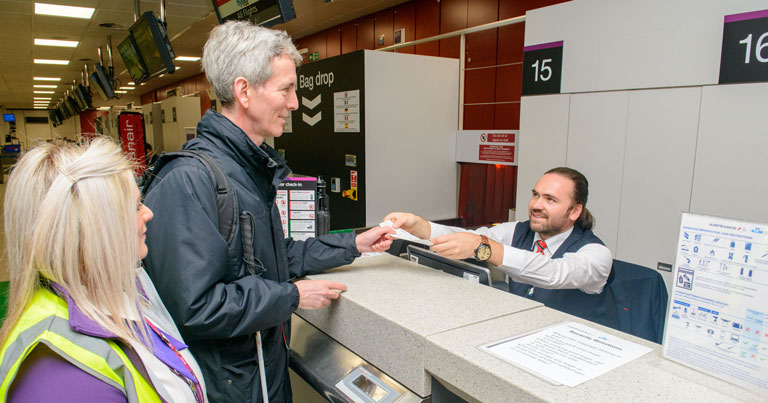 Edinburgh Airport has launched a new app to allow passengers with reduced mobility and hidden disabilities to personalise the assistance they require.
The app, called 'Welcome' by the Edinburgh-based company Neatebox, allows people with disabilities to set up a personal profile and request assistance in advance from the airport and other facilities.
The app sends a signal to the airport's Passengers with Reduced Mobility (PRM) reception to notify staff that the passenger is on their way to the airport, so they can prepare for their arrival and offer a personal and respectful service. This is another addition to the airport's efforts to make the terminal open and accessible to all.
Gordon Dewar, Chief Executive of Edinburgh Airport, said: "Airports take people from all walks of life to destinations all over the world, and it is our responsibility to ensure we have facilities that cater for everyone regardless of their needs. We've looked at how we can improve the wide range of services we already offer and introducing technology such as Neatebox allows us to extend that passenger care and tailor our service to those requirements.
"It's also good to work with local businesses and implement innovative approaches to passenger needs – we pride ourselves on being innovative and we are confident our accessibility will continue to improve with the introduction of Neatebox."
Social Security Minister Jeane Freeman also visited the airport to see how the app will help people with disabilities. She commented: "The Welcome App is a great tool for disabled people and those with reduced mobility to communicate with businesses – and businesses to provide a personalised level of customer service. Tackling some of the everyday barriers that stop disabled people leading their lives to the full is something which we should all welcome.
"We have committed to ensuring people with a disability or reduced ability are able and supported to live their lives with freedom, choice, control and dignity. We cannot do this without organisations like Edinburgh Airport also taking responsibility to improve their accessibility. I'm sure this will make a real difference to passengers and encourage other organisations to follow their lead."
Gavin Neate, founder of Neatebox, also added: "I could not be more excited about this opportunity to provide a service for not just disabled travellers but also the people who are tasked to support them. It is this totally inclusive approach to the provision of a service which allows me to visualise a time in the future where equality is neither given nor taken but is set as a default within our society.
"With over 80,000 people who could use this service travelling through Edinburgh Airport every year, many of them with "hidden" disabilities, we could not be in a better position to demonstrate this amazing service to the greatest number of people. We hope by doing so, we can promote Scotland as being the epicentre of this innovation."