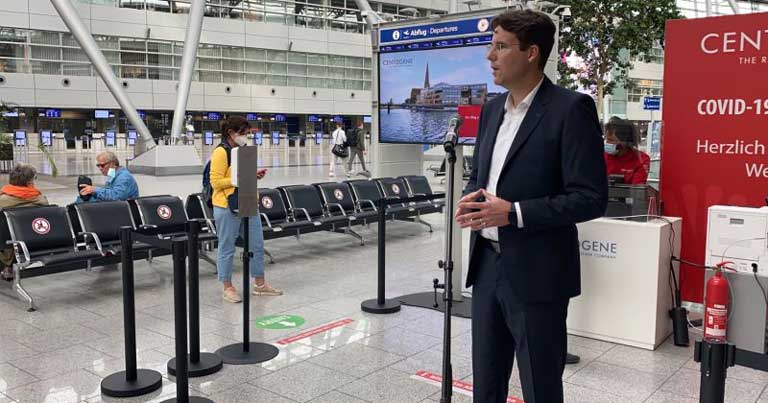 Lufthansa has announced that it is expanding its walk-in COVID-19 testing facility to Düsseldorf Airport after successfully launching the facilities at Frankfurt and Hamburg airports.
Opened in partnership with CENTOGENE, the facility is available for departing travellers who need a valid coronavirus test result at their destination and arriving passengers at Düsseldorf Airport. In addition, the general public in the Düsseldorf area can also get tested.
The COVID-19 test facility is open from 7:00 a.m. to 7:00 p.m. and is located centrally in the airport's Terminal C. People interested in taking a SARS-CoV-2 test can register directly at the test facility without needing an appointment and can get a sample taken via throat swab. The results will be delivered within 24 hours through CENTOGENE's secure digital platform, that allows the customer to register, order, and download their test results via a smartphone or computer.
Christina Foerster, Customer, IT & Corporate Responsibility Board Member, Lufthansa Group, commented: "We are convinced that expanding existing testing capacities, as opposed to getting rid of testing options for travellers returning from risk countries from October onwards and dismantling the successfully established test infrastructure at the airports, is the only reasonable way. We are therefore delighted about the opening of the new test centre at Düsseldorf Airport. The data obtained through testing can also make a significant contribution to reacting to the current infection situation with targeted and appropriate measures. Lufthansa and CENTOGENE are continuously expanding their capacities, and their cooperation serves as a benchmark for a successful test solution."
200,000+ passenger tested at FRA
In June 2020, Lufthansa partnered with CENTOGENE to launch the first COVID-19 test centre in Germany. The airport has reported that over the last two months, more than 200,000 passengers have been tested at Frankfurt Airport (FRA) using CENTOGENE's highly sensitive SARS-CoV-2 PCR test. On average, one percent of the samples taken tested positive during the last six weeks and over 97% of these results were transmitted digitally to passengers in less than 24 hours.
Most recently, the testing capacity at the test centre at Frankfurt has been expanded and now has a capacity of around 10,000 tests per day. On average, around 4,500 tests per day were carried out in July and August.
Rapid testing to be introduced in October
In an article published by Reuters, Lufthansa shared its plans to start offering rapid COVID-19 test to passengers in October.
Lufthansa's Senior Director for Product Management Ground & Digital Services, Björn Becker, commented that the new antigen tests will initially be available for first class and business class passengers only due to limited supplies, reports Reuters. Testing centres would likely be established at Lufthansa's primary hubs such as Frankfurt and Munich but also at key airports in the US and Canada, as they are important markets, Becker added.
The circumstances surrounding COVID-19 are continuously evolving. Our friends at APEX have a dedicated COVID-19 page, which they'll be updating regularly to help keep you up-to-date on how the novel coronavirus is impacting the aviation industry. Visit the page for the very latest news >>