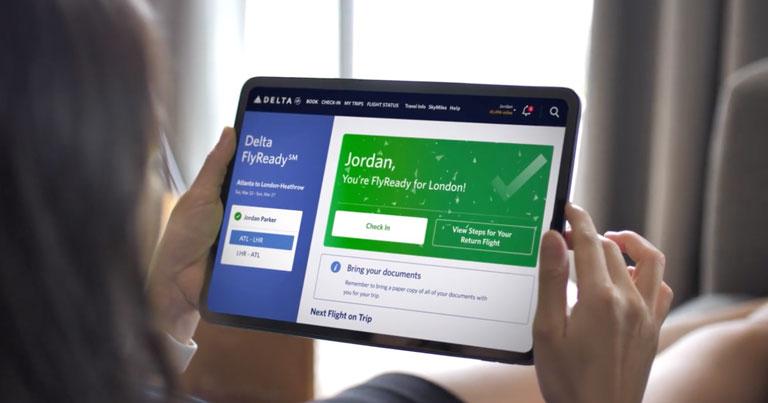 Delta Air Lines has upgraded its FlyReady digital dashboard solution with an all-new design and new easy-to-use features. The digital tool was launched last year to help customers verify they've met their destination's entry requirements prior to travel.
It allows customers on Delta FlyReady-enabled routes to automatically see the entry requirements in place for their destination along with informational resources that outline additional steps that may be needed prior to departure.
Among the new features is a more personalised view of travel requirements at the customer's destination, including using their SkyMiles profile and passport information to pre-fill documentation for a faster, more convenient experience.
Customers now also have the ability to view both outbound and inbound requirements at the same time immediately after booking, giving themselves more time to prepare for their return home. A new functionality has been added, that allows customers to save, exit and resume document management when they're ready, ensuring they don't lose their progress.
The user interface has also been overhauled with a more responsive and enhanced experience for mobile, allowing customers to use Delta FlyReady more easily across their devices.
Passengers that use Delta FlyReady prior to check-in will enjoy exclusive benefits at the airport as well with new dedicated bag drop lanes available at select airports. Customers travelling from Atlanta, Boston, Detroit, Los Angeles, Minneapolis-St. Paul, New York (JFK), Seattle, Salt Lake City and Rome can enjoy expedited service before departure for a more streamlined international travel experience.