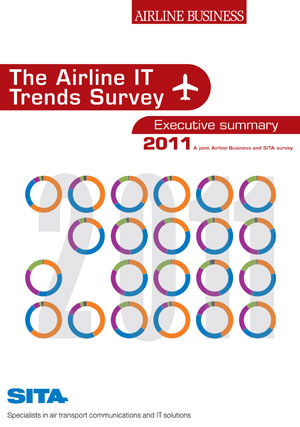 'The Airline IT Trends Survey 2011' – issued jointly by SITA and Airline Business – points to increased airline investment in mobile technology, social media and self-service.
One of the key findings outlines that 91% of airlines are planning to make investments in passenger mobile services, with check-in, flight status updates and electronic boarding passes the main focus.
By 2014, it is anticipated that 15% of passengers will use mobile phones for check-in – a five-fold increase on today's figures.
It also states that by the same year, 69% of airlines will sell, or plan to sell, tickets via social media networks.
Other key points are that 83% of airlines expect IT budgets to increase or remain the same in 2012, 58% of tickets will be sold directly by 2014, and 93% have, or plan to have, infrastructure virtualisation/service implemented within three years.
Francesco Violante, SITA CEO, said: "The air transport industry has been quick to capitalise on the mobile computing revolution, which started three years ago with the arrival of the first 3G-enabled smartphones. The number of airlines actively selling tickets on mobile phones has almost doubled from last year and we see clear plans now to offer richer functionality in the form of ticket upgrades and modifications.
"The survey confirms increasing interest in social networks as distribution channels. With the increase in channels, travel offers need to be delivered to passengers in a far more targeted and personalised way based on traveller preferences and the context of the channel used. This fits with the airline strategy of taking more control over distribution with more tickets being sold directly via airline websites and call centres."