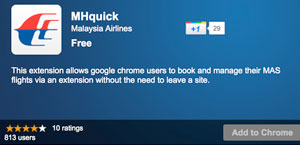 Malaysia Airlines' new booking tool – MHquick – allows Google Chrome users to easily search for flights and check-in online without leaving the website they were already browsing.
A MAS icon next to the URL bar on the website can be used as a drop-down flight search menu, offering an alternative to visiting the full website.
"MHquick is a quick and easy way to book, check-in and fly. Now you have more choices to book on your desktop according to your needs, either via the www.malaysiaairlines.com website, through your Facebook using MHbuddy, or through MHquick," said Dato' Dr Amin Khan, EVP of Commercial Strategy, Malaysia Airlines.
The app can be downloaded for free from the Google Web Store.
Click here for more information.