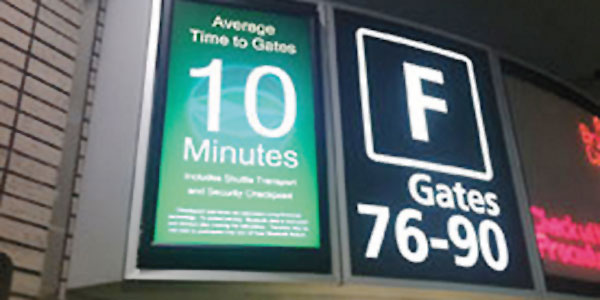 Passengers travelling from Tampa International Airport's main terminal can now view the security queuing times on digital displays.
The move has been inspired by the findings of a recent survey undertaken by the airport, in which 84% of passengers said they would like the airport to provide information on the security checkpoint wait times.
The system works by reading the Bluetooth signals from passengers' mobile devices. The signal is read before and after security and the average time taken to complete the security process is calculated.
"Since its opening more than 40 years ago, Tampa International Airport has had a reputation for efficiency and ease of use that has made it one of the most-loved and well-regarded airports in the world," said airport CEO Joe Lopano.
"One of my top goals is to build on that reputation and introduce services that will make travel through our airport even easier. This initiative will help us accomplish that goal."
The Bluetooth-based system will initially be tested for 30 days and if it is successful, it will be implemented on a permanent basis.