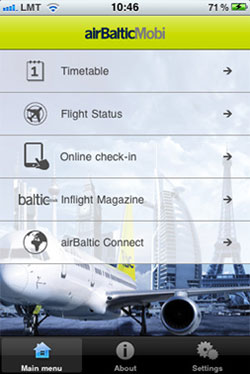 Latvian national airline airBaltic has launched a new mobile check-in service, which allows passengers to check-in for their flight via a mobile device. The service can be used by visiting airBalticMobi.com on a mobile web browser, or via the airBaltic app for iPhone and iPad.
Michael Grimme, the airline's Senior Vice President Sales and Marketing, said: "Our aim is to continuously improve services to our passengers, travelling to and from our 60 destinations in Europe, the Middle East, Russia and the CIS.
"By using mobile check-in, our customers can reduce the amount of time that they have to spend at the airport. If all passengers were using mobile check-in and online check-in on all flights, they would save up to 100 million minutes a year. That is a significant saving of time – almost 200 years!"
Mobile check-in is currently available for airBaltic flights operated out of Riga, Bergen, Billund, Budapest, Dusseldorf, Helsinki, Lappeenranta, London, Moscow Domodedovo, Nice, Oslo, Oulu, Paris, Tallinn, Tampere, Turku, Vaasa and Vienna.