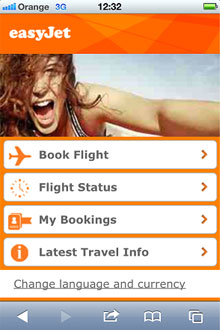 easyJet has launched a new mobile optimised website, which allows passengers to search and book flights, check flight information, manage bookings and access FAQs.
The website is supported by BlackBerry, Windows 7, iPhone and Android devices and is available in English, French, German, Italian, Spanish and Dutch.
Peter Duffy, Marketing Director, easyJet, said: "The launch of our mobile optimised website builds on the success of our apps and will help more of our customers access the information they need on the move.
"We are still at the beginning of an exciting journey in mobile, and plan many more customer-focused updates which will help make travel easier, particularly during the in-airport experience."
The launch of the new mobile website follows our recent interview with easyJet COO Warwick Brady, who revealed the plans for 'Project Halo'.