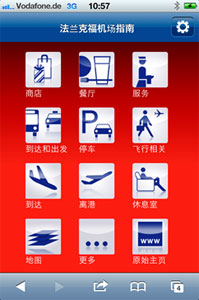 Fraport has launched a new Chinese version of its mobile app to improve the passenger experience for Chinese passengers travelling through Frankfurt Airport.
The launch of the Mandarin Chinese language app follows the successful launch of German and English versions last year.
Users of the app can find information about shops and airport services, maps and wayfinding information, and up-to-date flight data.
The introduction of the Chinese app is the latest stage of Fraport's 'Great to Have You Here' service programme, which is designed to increase the quality of the passenger experience at Frankfurt Airport.