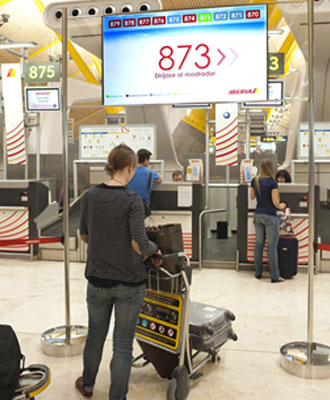 Iberia's new visual queue management system has gone live at its Madrid-Barajas T4 hub. The system – which is part of the Ágora project that we reviewed last week – makes use of a projector screen to highlight the status of each of the check-in desks.
If a desk is free, it is displayed in green, if is occupied it is displayed in red, and if it closed, it is displayed in grey. As soon as a check-in desk becomes available, the number of the desk is displayed on the large overhead screen, with arrows pointing the passenger in the right direction.
The Spanish airline has found that it takes the average passenger six seconds to realise that a check-in desk is free. Therefore, for the 100th person in the queue, the new system will create a potential time saving of 10 minutes.
The system also allows the airline to easily collate statistics for each stage of the check-in process and request assistance from an IBHelp roving agent to reduce queues at peak times.