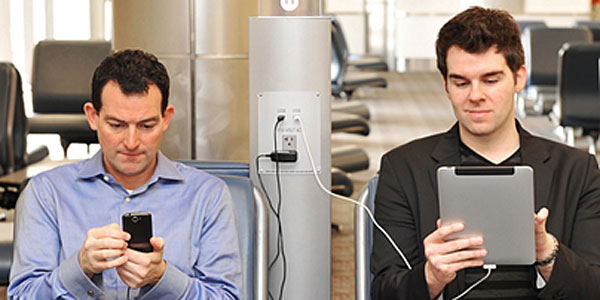 Delta Air Lines has introduced its popular recharging stations at 13 more airports, so passengers can charge-up their smartphones, laptops and tablets at the gate.
Tokyo Narita International Airport is among the airports to have had the recharging stations installed, becoming the first international destination to offer the service. Four of Delta's gates have been updated with power stations that feature six standard US 110 volt outlets and two USB ports per station.
Delta is also adding the popular feature at 12 additional cities in the US before the end of the year. At least two power stations per gate will be installed in Anchorage, Alaska; Austin, Texas; Denver; Dallas/Ft. Worth; Houston Intercontinental; Kansas City, Mo.; Milwaukee, Wis.; New Orleans; Ontario, Calif.; Philadelphia; Phoenix; and Syracuse, N.Y.
"Customers today are savvy travellers who bring their smartphones, computers and tablets with them," said Wayne Aaron, Vice President – Marketing Programs and Distribution Strategy at Delta. "Providing a power source they can use before they get on a long flight helps them do what they need to do in the air, whether for work or pleasure."
Delta-branded gate area recharging stations have already been installed at Delta's top 20 busiest airports.