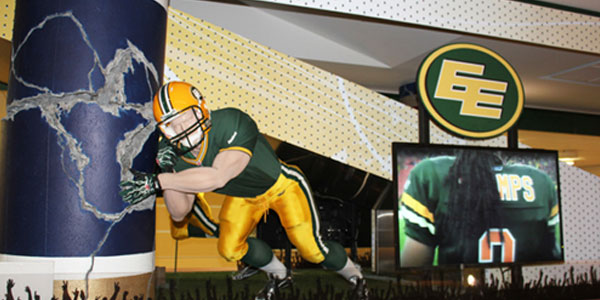 Edmonton International Airport (EIA) has unveiled a new Domestic-International Passenger Lounge and Canada Border Services Agency (CBSA) Arrivals Hall in the latest stage of the Expansion 2012 project.
One of the key features of the new passenger lounge is a new baggage delivery system with three carousels, all of which are adorned with sports-themed displays celebrating local teams the Oilers, Eskimos and Oil Kings. The carousel in the CBSA Arrivals Hall is fitted with two delivery belts, doubling the speed of baggage delivery. There are also four new dining outlets, five new retail outlets and four art displays.
The latest phase of expansion follows the release of figures which show that EIA has handled a record-breaking 6.5 million passengers over the last 12 months, making it the fastest-growing major airport in Canada.
"We're thrilled about our current growth in passenger traffic and the 50% more space from Expansion 2012 ensures we can keep up with demand," said Reg Milley, EIA President & CEO.
"With this latest phase of expansion, we've added even more capacity for airlines to offer new flights while passengers enjoy a more comfortable space with a wide range of new shopping and dining options."