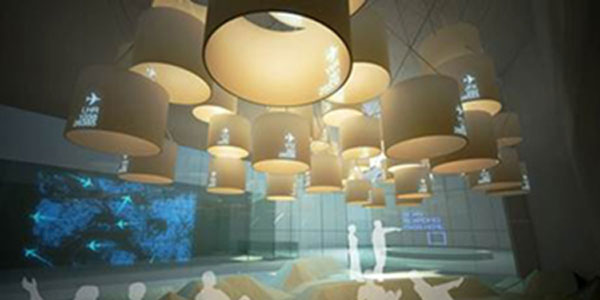 San Diego International Airport has commissioned a New Media Lounge, which will be designed to represent the destination of San Diego.
Due to be launched in summer 2013, the lounge's floor and furniture will reflect the landscape, terrain, cliffs and coastal areas surrounding the airport, while large lamps hanging from the ceilings will replicate the San Diego airspace, with projections of detailed flight information.
The lounge will also contain a range of interactive elements related to wildlife and the theme of 'migration'.
Passengers will also have space to relax as they wait for their flight, and recharging points for electronic devices will be installed. Following a global competition, Jason Bruges Studio, along with architecture firm Gensler, was awarded the contract for the project by San Diego Airport Authority.
Constance White, Art Program Manager at San Diego International Airport, said: "We are constantly looking for creative new ways of interacting with the passengers who travel through San Diego International and we are focused on giving them a memorable experience that they will never forget, nor repeat elsewhere. We were very impressed with Jason Bruges Studio's vision for this project, as we believe it ticks all the right boxes when it comes to bringing out the best of our city and allowing passengers to participate and interact in a hi-tech setting."