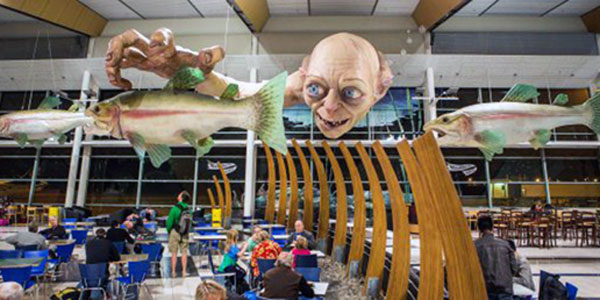 Passengers arriving at New Zealand's Wellington Airport are in for a surprise following the installation of a 13-metre long Gollum sculpture in the 'Middle of Middle-earth' terminal.
The sculpture, which is suspended from the roof and depicts Gollum diving for fish, has been installed to celebrate the forthcoming launch of Peter Jackson's first The Hobbit film, which was mostly filmed in New Zealand.
The terminal – as with the city of Wellington itself – has been temporarily renamed 'The Middle of Middle-earth' in recognition of the fictional setting of J.R.R. Tolkien's works.
Steve Sanderson, Chief Executive of Wellington Airport, said: "As the first and last impression of our region, the airport is proud to work with Weta (the company behind the creation of the sculpture) and have this magnificent sculpture on display for all to see.
"Everyone will be amazed when they enter the terminal. Visitors can walk under and around Gollum and the fish to explore the sculpture's beauty and intricate detail; it really does feel like you're in the stream with him!"