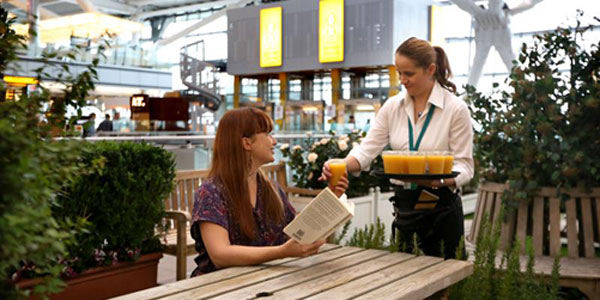 Heathrow Airport has opened a new pop-up park in Terminal 5, where passengers can relax and enjoy views of the airfield while they wait for their flight. The park includes grass, hedges and plants, as well as rosemary bushes and jasmine, which can help promote relaxation and enhance wellbeing pre-flight.
A specially developed pre-flight relaxation menu has also been introduced by the various eateries in the terminal. The food includes ingredients that are scientifically proven to help people unwind and includes a dish from world-renowned chef Gordon Ramsay.
The new park follows research which found that 33% of people take up to five days to get into holiday mode, while 42% continue to check emails, texts and voicemails while on holiday. A third of travellers blame work as the main killer of their holiday mood. With this in mind, the park has been introduced to coincide with the half-term school holidays in the UK, which is expected to lead to 1.5 million passengers passing through the airport to enjoy a pre-winter holiday.
Ben Crowley, Head of Food & Beverage at Heathrow Airport, said: "Holidays are precious, providing us vital time to relax and recharge our batteries. We want to help our passengers start their holiday the moment they arrive at the airport, and make sure their time away is as relaxing and enjoyable as possible.
"Our indoor park adds a completely different dimension to Heathrow's departure lounge and our menu of specially developed relaxation dishes really completes the experience."