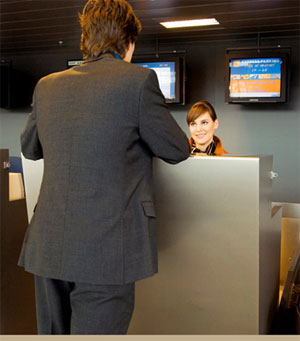 Indonesia's two busiest airports have adopted mobile check-in desks in an innovative attempt to ease congestion at peak times.
The wireless solution has been developed by ground handler JAS alongside SITA. It has been deployed in Soekarno-Hatta International Airport in Jakarta and Bali's Ngurah Rai International Airport.
The roving check-in counter, which is called Mobicheck, is based on industry standard CUTE technology and it can process passengers from multiple airlines, making it ideal for shared-use airport terminals.
Ilya Gutlin, SITA President, Asia Pacific, said: "Essentially it is a check-in desk on wheels, which means it can be set up anywhere there is a queue and then stored away in a back office when it is not required.  This provides much greater flexibility than fixed counters, as well as providing a back-up system for business continuity in the event of a disruption.
"The service is common-use, which means it can support any airline that uses the CUTE environment. Airlines are assured of better service for their passengers and with less bottlenecks at check-in, aircraft delays are reduced. The airport is also happy because it leads to less congestion in the departure halls and a smoother passenger flow."
Nazri Othman, Chief Operating Officer, JAS added: "During peak periods, airlines need more counters to check-in passengers. With no space for expansion of existing fixed desks, roving counters provide an effective way to keep queues down. They give us the freedom to move around and open a new check-in area wherever and whenever a queue starts to form."