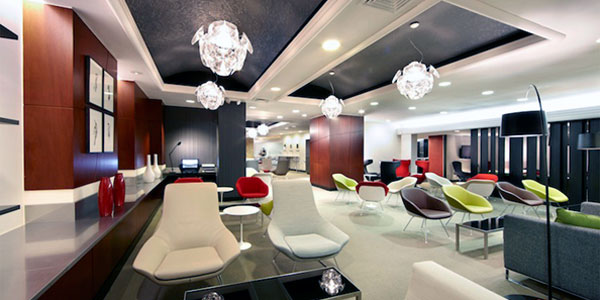 Virgin Atlantic has opened a new Manhattan-themed Clubhouse lounge at Newark Liberty Airport, which includes a cocktail bar, brasserie, movie screening room and works of art.
The new lounge was designed by New York-based Slade Architecture and the Virgin Atlantic in-house design team.
The Clubhouse lounge features a Cocktail Bar; The Passion Pit, which is a sunken lounge area where visitors can relax and even have a sleep; The Origami Lounge; The Liquid Lounge; a brasserie, where passengers can enjoy locally sourced food; and a Screening Room, which features films from eight graduate filmmakers from the National Film and Television School. Work by local artists is also featured in the Clubhouse.
Luke Miles, Head of Design at Virgin Atlantic, said: "Newark has always been an important market to Virgin Atlantic – it's where it all started with our first flight from London in 1984.
"The new Clubhouse has been designed to really reflect the spirit and heart of downtown New York and we are confident that it will continue to impress our passengers and give them an experience to remember each time they fly with us."