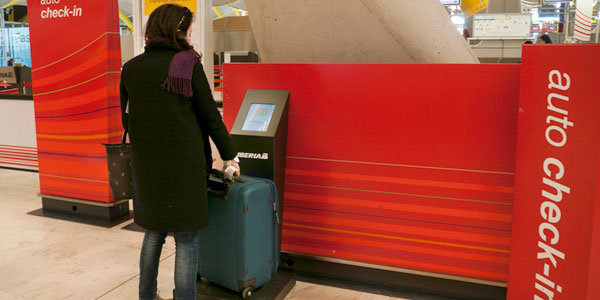 Last August, Future Travel Experience reported on Iberia's Project Ágora, which is creating a world-class passenger experience at Madrid-Barajas Airport. The aim is to create a seamless and stress-free passenger experience through a broad range of initiatives. Six months on from our initial report, a focus has been placed on baggage at the check-in area and oversize baggage delivery in the claim area.
Iberia has installed new 'smart' scales for weighing suitcases at Madrid-Barajas Terminal 4. The fresh-thinking comes from the fact that these scales are intelligent and allow passengers to know if their suitcase is within the weight allowance of their ticket, and if it is not they can take the appropriate steps. "This might be a triviality, but our clients value the proactive information given by these smart scales because they do not need to find out what the allowance is," commented Alejandro Rivera Gil, Airport Development Project Manager, Iberia.
The scales are equipped with a minicomputer, which enables the control of the information that can be displayed; hence any roving agent is now capable of changing the baggage allowance anytime with their IBPads through a 3G connection with the scales or remotely from their desk. They have a luminous screen, and when a piece of baggage exceeds 23 kilos a red indicator appears with the message 'Pay excess weight at the counter'. When the suitcase is within the limit, a green indicator appears with the message 'Go to the baggage counter'.
Meanwhile, a new service is now available in the baggage claim area, where a new baggage management system speeds up the delivery of oversized baggage. 70% of oversized baggage, measuring up to 1.5m in length and weighing less than 50kg, will be processed automatically by the baggage handling system, with these passengers receiving their baggage 15 to 20 minutes earlier than previously. Iberia has developed an innovative extra-large tray suited to these operations through its continuous collaboration with Aena, Siemens and baggage handling trays supplier.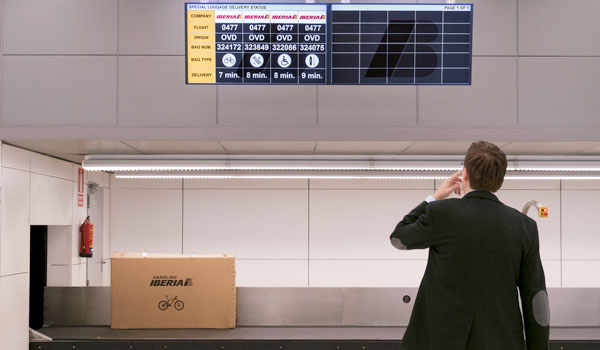 For the remaining 30% of oversized baggage that does not fit on the new trays, Iberia has launched a new system to speed its delivery while informing passengers of its status. A new software platform will allow baggage handling staff to use their PDAs to monitor, register, and view baggage items in real time, prioritising them for tight connections. Passengers can now see this information on new display screens above the baggage carousels in Terminal 4, showing the code number and type of each piece of oversized baggage, as well as its estimated delivery time.
Further Project Ágora innovations will be announced this year, and Iberia promises the best is yet to come. It is clear that the Project is already significantly enhancing the travel experience at Madrid-Barajas, and Future Travel Experience will report on further developments as they happen.