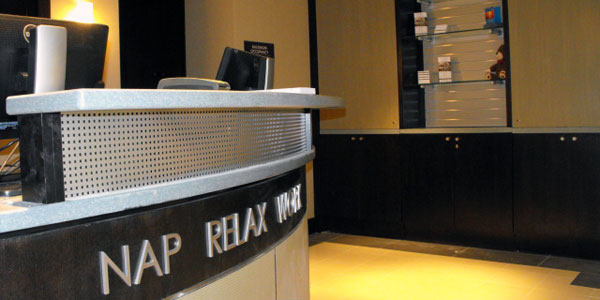 Dallas/Fort Worth International Airport (DFW) has introduced its first Minutes Suites location – a high-tech, around-the-clock nap centre in which passengers can relax, conduct business or sleep, in private suites available by the hour. The first of two Minute Suites centres planned for DFW is situated in Terminal D, with nine sleep suites and two shower facilities.
Each suite is designed to serve as a private oasis for passengers, and is equipped with a daybed sofa that features two sleeping areas with fresh pillows and blankets. A sound-masking system in each suite neutralises noise, while a unique audio programme helps deliver the equivalent of three hours of sleep in 26 minutes. Each room also features a high-definition television with access to TV channels, the internet, and flight-tracking information.
"The addition of Minute Suites gives DFW another unique and highly sought service for our passengers," said Jeff Fegan, CEO of DFW Airport. "We are always looking for new ways to enhance our world-renowned customer service here at DFW, and Minute Suites certainly does that by offering a great way to refresh or get some serious work done during a layover."
The installation of the suites are part of DFW International's $2.3 billion Terminal Renewal and Improvement Program to redefine first class at the global gateway. The airport is now the third in the US with a Minute Suites location, and another is planned as part of the next phase of its renovations in Terminal A next year.
Suites are priced at $34 for a one-hour minimum stay and then $8.50 for every 15 minutes thereafter, with rate reductions beginning at four hours and a flat overnight rate of $125.