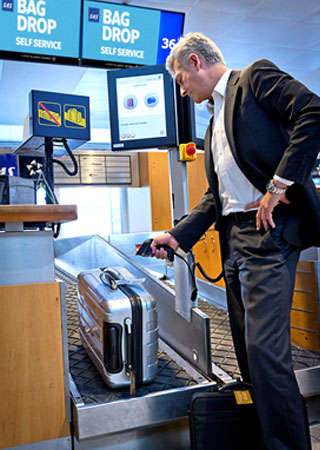 Copenhagen Airport has introduced 12 new self-service bag drop units, which can be used by passengers flying with SAS and Norwegian. Eight of the units will be used by SAS and four will be used by Norwegian.
Passengers simply have to print their baggage tag at a kiosk, attach it and scan it at a bag drop unit using a handheld scanner, and then place the bag on the baggage belt. If the bag is oversized or too heavy, the information screen will notify the passenger and an airline agent will be on hand to assist.
Marie-Louise Lotz, Head of Passenger Service at Copenhagen Airport, said: "We focus on making passengers' way through the airport simpler and faster, and we also strive to reduce airline costs. Those are two of our areas of strategic focus, so we're very pleased that the self-service bag drops support both goals."
"Frictionless and efficient service"
SAS currently uses self-service bag drops at Oslo Airport and is testing a solution at Stockholm Arlanda, and the airline's Head of Ground Handling, Hans Henrik Spangenberg, explained that SAS is pleased to now be able to use the service in Copenhagen.
He said: "We want our passengers to have a pleasant, frictionless and efficient experience at the airport, which this self-service facility helps provide."
Johan Bisgaard Larsen, Norwegian's Chief Information Officer, added: "We focus on making the check-in process as easy as possible for our passengers. The introduction of self-service bag drops at Copenhagen Airport has brought us a step closer. Our passengers are used to and happy to check-in themselves, and we look forward to offering an additional time-saving service."