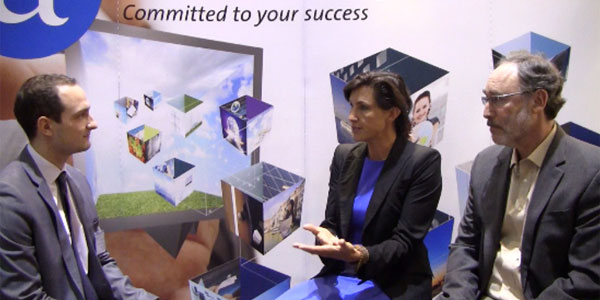 Delays and cancellations are, unfortunately, part and parcel of air travel. While air transport industry stakeholders can take measures to prevent the likelihood of disruption, sometimes it is simply unavoidable. In the last few weeks alone, flights to and from the UK were impacted by a severe storm, flights in Los Angeles were affected by the tragic shooting of a TSA officer, French and Italian airports have seen air traffic control strikes, and New Zealand's Wellington Airport has experienced disturbances due to sustained high winds. Air travel disruption is an inescapable problem on a global basis.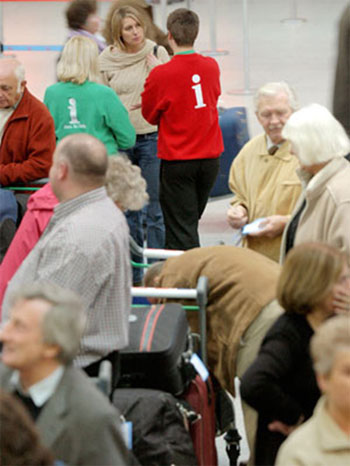 However, just because disruption is sometimes inevitable does not mean that airports, airlines and all other parties involved in the travel process should be excused from taking responsibility. In fact, when a passenger's plans go awry, it is the time they are most in need of support. Far too frequently though, they are left not knowing which aircraft they will eventually travel on and where they are going to stay while they wait for that flight.
"There needs to be timely information, consistent information and an orientated message for the passenger," explained Patricia Simillon, Head of Airlines Operations Strategy at Amadeus. "This can come through a variety of touchpoints, whether it's an agent at a desk, a roaming agent, in-flight or through their mobile. What's important is that they get the same message.
"We want airlines and airports to manage expectations and empower the passenger. If they have to, just tell them 'We don't know the answer now, but we'll know in 15 minutes' – that's fine. They just need to give control back to the passenger."
Gatwick Airport's effective storm response
At Gatwick Airport last week, this strategy of keeping passengers informed was put to the test as flights were delayed due to the St Jude storm. Nikki Barton, the airport's Duty Senior Manager, explained: "We worked with the airline community leading up to the storm to review what contingencies and measures needed to be put in place to enable them to operate a full schedule of flights.
"Confident with the plans, all our major airlines made a decision to operate their first wave of flights, but in order to minimise disruption to passengers, some airlines took decisions to delay by one or two hours the arrival of a small number of their flights when the weather was forecast to calm down."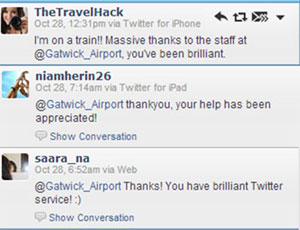 Gatwick Airport also worked closely with Southern Trains to ensure services were laid on for passengers who needed to catch rail services, while a taxi contingency plan was also put in place with the airport's mini cab partner to ensure all drivers were on duty and ready to assist arriving passengers who had been impacted by public transport delays.
Barton added: "As a result of this surface access contingency plan, we were able to keep the terminals, forecourts and station concourses congestion-free and enabled passengers to make their onward travel."
While all of this was ongoing, Gatwick Airport also had volunteers in place throughout the two terminals to assist with passenger enquiries and a member of staff even arranged for someone to busk in one of the terminals to keep the passengers entertained. Proactive tweets were also issued at regular intervals and the latest weather updates were posted on the airport's website.
"Airlines should be three steps ahead"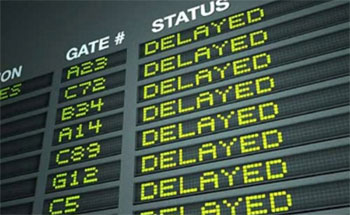 While the Gatwick Airport response provides an example of best practice, unfortunately disruption management is not always undertaken in such an effective manner. Norm Rose, Senior Technology Analyst at PhoCusWright, and author of the 'Passengers first – re-thinking irregular operations' white paper that was launched by Amadeus and PhoCusWright at FTE Global 2013, explained that airlines need to do more to ensure they are the proactive source of information during disruption. And by "disruption", he does not just mean in times of severe weather or strikes, but also during everyday delays caused by operational issues.
"A passenger might be waiting at the gate and the screen says their flight is delayed," he explained. "Passengers are smart enough to say 'where is our plane coming from' and then look at the arrivals board and work it out. If they then see that their aircraft is still an hour away, they're smarter than the airline! That cannot be continued. The airlines have to be three steps ahead of any other third party and they should be able to do that."
Pro-active, mobile communication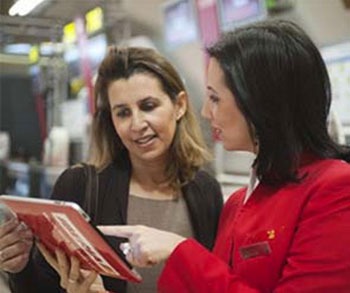 One communication channel that presents an opportunity to airlines and airports in such a situation is the mobile device – whether that is a smartphone or a tablet. According to Simillon, opportunities exist to directly interact with and track down individual passengers, which is an effective first step towards minimising the impact of disruption.
"With increased mobility and roaming agents in the airport, you can locate the passenger you need," she said. "You can go and meet that passenger and say 'I know you've been disrupted, so please let us offer you free lounge access while you wait'. It's this additional caring attitude that I think can truly make a difference."
While such service may have been seen as an unexpected bonus by passengers in the past, today's empowered passengers have come to expect a higher level of service, according to Rose. "What we have done as an industry is given consumers power and once you have power, you don't want to give it up."
Therefore, simply booking the affected passenger onto a flight the next day may not be enough. "If you re-accommodate a passenger and they're only delayed by an hour-and-a-half, you might be missing the point that they have missed an important business meeting or big family event. It could still be a major disruption for them."
Improving data exchange
So, while it is easy to say that more needs to be done, how exactly can improvements be achieved? As Simillon explained, collaboration is vital and central to this is data exchange, because action can only be taken if the relevant parties have access to the right information.
"The easy answer is to say we all need to get there and we need to collaborate to do so," she said. "Data collection is important, but what matters more is how you share this information among all the stakeholders – the airline, the airport, the hotel."
Again, Gatwick Airport's recent response to the impact of the storm provides evidence of what can be achieved through collaboration. "When there is the possibility of disruption we have a process in place where everyone – that is airlines, baggage handlers, National Air Traffic Services and all of the key players – come together to work collaboratively and put contingencies in place early on," Barton explained.
However, the airlines must still take responsibility. PhoCusWright's Rose continued: "The airlines who will win in the future will be the ones who are going to be open to that and not feel like information is so proprietary that it hurts them if they share it."
While Simillon and Rose accept that many airlines have invested heavily in technology to detect and deal with disruption, solving the disruption from the passenger viewpoint is still a big challenge.
One small step that can make a telling difference though, is a simple change of mindset. "A shift to a 'guest' attitude and an attitude to welcome them, take care of them and empower them" is an approach that Simillon identified as a good place to start.