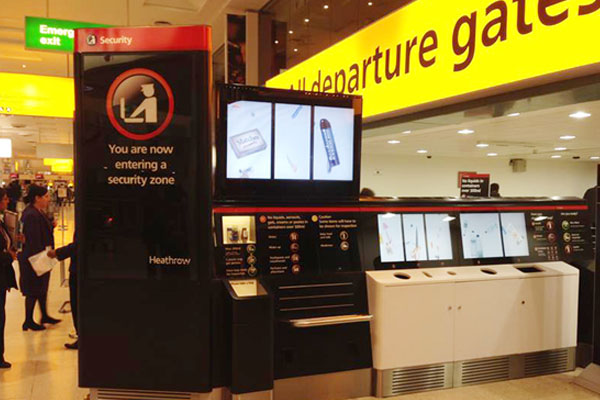 London Heathrow Airport, an official partner of FTE Europe 2014, is trialling innovative 'glasses-free 3D' technology at the entrance to the security zone in Terminal 1 to help passengers prepare for the security process.
Large screens show 3D images of items that are not permitted through security, such as scissors and liquids over 100ml, and passengers are shown how to dispose of them in the recycling bins provided.
The technology is being trialled for the next eight weeks and aims to reduce queues at security by cutting down on the number of bags that are rejected and have to be manually searched.
Richard Harding, Head of IT Innovation at London Heathrow, said: "Helping prepare passengers for security saves them time and reduces the chance of having their bag searched. 3D technology is the latest way to help get this message across. Once we've analysed the trial's results we'll decide whether to expand the technology to the rest of the airport."
Matthew Young, Managing Director of Exceptional 3D Europe, the company behind the innovative technology, added: "We're very excited to be working with Heathrow Airport in an effort to make travelling an even smoother experience. As our business requires us to travel like many others in the world, we know and understand that there is a mild frustration when it comes to unexpected delays. It's our expectation that this will not only improve the traveller experience but also help minimise delays at necessary and very critical stages of air travel."