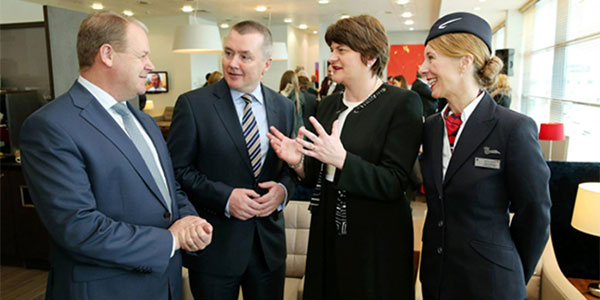 British Airways – an official partner of FTE Europe 2014 – has invested £300,000 in developing its new business lounge at Belfast City Airport to provide a comfortable space for passengers to work or relax.
Among the key features in the lounge is a dedicated work zone with power outlets, complimentary Wi-Fi and innovative 'air print' technology that allows customers to print documents directly from mobile devices. Passengers can also make use of a complimentary bar and food service while they wait for their flight.
The investment in the lounge – which offers direct boarding onto the aircraft – is part of British Airways' wider £5 billion investment programme to improve the passenger experience.
Willie Walsh, Chief Executive of International Airlines Group, British Airways' parent company, said: "British Airways' new lounge represents a significant investment and shows the importance of the Belfast operation within our global network. We want to continue to lead the way in customer service excellence and our lounges play a critical role in delivering a premium experience to our customers.
"We recently announced that all our Belfast flights will be moving to our flagship Heathrow home, Terminal 5, at the end of October. Customers connecting to British Airways' extensive worldwide network from Heathrow will now benefit from being able to connect to more long-haul destinations without having to transfer between terminals – cutting minimum connection times by 30 minutes."
Brian Ambrose, Chief Executive of George Best Belfast City Airport, said: "At Belfast City Airport, we remain focused on enhancing the passenger experience and making the journey through the airport as easy and enjoyable as possible. I am delighted that this focus is shared by British Airways, whose passengers will now have the option of using the facilities in the new lounge before boarding their flight."