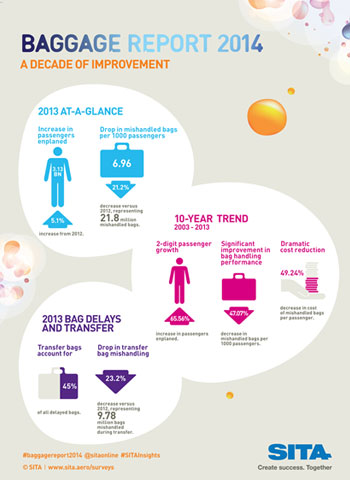 Airline baggage delivery hit a record high in 2013, with the mishandling rate dropping by 21.2% year-on-year, according to the 10th annual SITA Baggage Report.
The rate of mishandled bags in 2013 was 6.96 bag per thousand passengers, which is half the rate reported 10 years ago. From 2012 to 2013, the total annual cost of mishandled bags fell 19.9%, which means the cost of mishandled bags is now 50% less than in 2007, when the number of mishandled bags peaked at 18.88 per thousand passengers. The latest year-on-year improvement was recorded as passenger numbers increased by more than 5% globally.
In total, 21.8 million mishandled bags were reported in 2013. More than 80% of these were delayed bags, with baggage transfers between flights the main cause. However, while transfer bags accounted for 45% of delays in 2013, this is 23.2% lower than a year earlier.
Francesco Violante, CEO, SITA, said: "The industry has joined together to tackle the problem of mishandled bags, and we have seen great results. There is still more work to do, but 2013 was the best year ever, showing the benefits of this collaboration.
"As the community provider to the air transport industry, SITA continues to invest in innovative technologies to drive the mishandling rate still lower. This includes self-service solutions for passengers such as self-service bag-drops and our BagJourney application programming interface, which provides end-to-end baggage tracking for integration into airline and airport systems, such as smartphone and tablet apps."