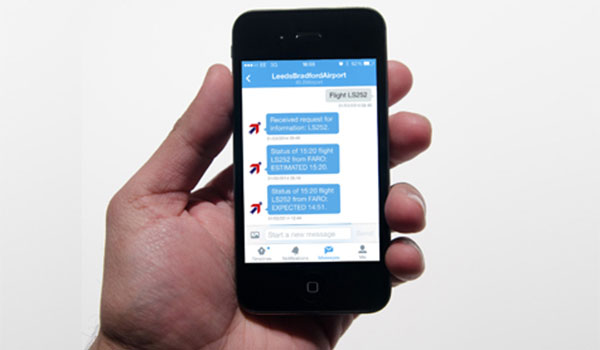 Leeds Bradford International Airport is making use of the real-time capabilities of Twitter by proactively sending flight updates to passengers who opt in to the service.
Rather than actively having to check the airport website or Twitter feed for the latest flight and gate information, passengers can choose to receive direct messages relevant to their specific flight.
To use the service, the passenger must both be following the airport's official Twitter account (@LBIAirport) and be followed back. They can then send a direct message with the word 'flight' followed by their flight number, and confirmation of the request is then immediately sent back to the user. Flight updates are then automatically shared via direct message until the aircraft has either taken off (for departures) or landed (for arrivals). If the user has notifications enabled on their smartphone, they will be proactively notified whenever a new direct message is received from the airport.
Simon Kenworthy, Digital Executive at Leeds Bradford Airport, said: "Passengers are increasingly relying on their mobile devices and social media to source information – Leeds Bradford Airport's customers can now receive important flight information directly to their device via Twitter.
"I am delighted to launch this application; it will enhance the customer experience by utilising the real-time capabilities of Twitter to communicate updates for both incoming and outbound flights."